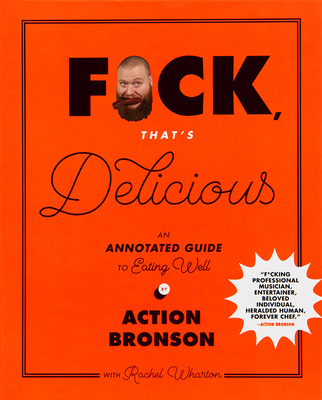 F*ck, That's Delicious (Hardcover)
An Annotated Guide to Eating Well
Harry N. Abrams, 9781419726552, 192pp.
Publication Date: September 12, 2017
* Individual store prices may vary.
About the Author
Action Bronson is the powerhouse behind F*ck, That's Delicious. He is the television host of VICELAND's F*ck, That's Delicious and The Untitled Action Bronson Show and has more than 1.4 million followers on Instagram, and millions stream his outrageous videos.
Rachel Wharton is a James Beard Award-winning food writer. Wharton is the author of Edible Brooklyn: The Cookbook and co-author of Korean Home Cooking and F*ck, That's Delicious with Action Bronson. She lives in New York.
Praise For F*ck, That's Delicious: An Annotated Guide to Eating Well…
"This book is a map of the inside of Bronson's brain. Starting with his version of Proust's madeleine, the 'bagel with cheese,' and then traveling down the THC-intensified paths of desire to include cheap street foods in the five boroughs of NYC to exotica found on his pilgrimages across the planet . . . This magnificent tome is filled with both the recognizable and the perplexing. And, best of all, I can make it at home and so can you. . . . This is a book that is at once a testament to a wild palate, to a man with a gastronomic vision, to a hip-hop artist of the top of the top category, and a student of life with legendary curiosity. Bronson is the Leonardo da Vinci of pop culture's multi-cosmic, infinitely overstimulated, twenty-first century children of the handheld devices. At the very same moment all this is swirling around in your head, on your tongue, throughout every single muscle of your dancing, jumping being, you realize . . . F*ck!!! This is delicious."
— Mario Batali
"F*cking professional musician, entertainer, beloved individual, heralded human, forever chef."
— Action Bronson
"If chefs are 'the new rock stars' (the Times) and 'rap is the new rock and roll' (Kanye West), then the Roger Daltrey of the current moment is a cannonball-shaped thirty-one-year-old rapper from Flushing named Action Bronson."
— The New Yorker
"Through his career on VICELAND, Bronson has become one of the internet's most entertaining food personalities—and his book delivers just as much loud enthusiasm for eating fucking delicious things as his show by the same name."
— GQ magazine