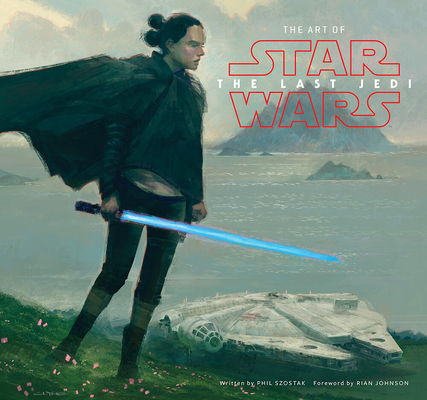 The Art of Star Wars (Hardcover)
The Last Jedi
Harry N. Abrams, 9781419727054, 256pp.
Publication Date: December 15, 2017
* Individual store prices may vary.
About the Author
Phil Szostak has worked in conjunction with Star Wars art departments for eight years at Lucasfilm and is the author of The Art of Star Wars: The Force Awakens (Abrams, 2015). A graduate of the School of Visual Arts in New York, Szostak worked for Wild Brain Animation on the Disney Channel series Higglytown Heroes, and ran the JAK Films Art Department on Skywalker Ranch for over three years before joining the narrative design team on LucasArts's Star Wars 1313. He resides in San Francisco.
Praise For The Art of Star Wars: The Last Jedi…
"The Art of Star Wars: The Last Jedi is much more than a bunch of pretty pictures. Buried in Phil Szostak's 256-page book are some fascinating insights into the production of the film…we highly recommend you flip through yourself…"
— Gizmodo
"Szostak has worked with the Star Wars art departments for nearly a decade. He explores the filmmakers' visions and illuminates their creative process."
— IGN
"Star Wars began in a visual medium and this book—featuring concept art and costume sketches, storyboards, and blueprints—will show you why."
— John DeNardo
"For those looking to dive further into the making of the latest movie, The Art of Star Wars: The Last Jedi, shares the creative processes used by the filmmakers..."
— Parade
"Phil Szostak's book... boasts a collection of never before seen concept art gems."
— Comic Book Resources
"This stunning Art of Star Wars book is a must-have for movie lovers."
— Fandom
"…a comprehensive guide to all the concept art that went into the making of the film."
— Inverse
"While they're rarely celebrated, conceptual artists play an integral role in creating the look of a film… The Art of Star Wars: The Last Jedi gives these talented men and women their proper due by showcasing their valuable contributions."
— Unbound Worlds