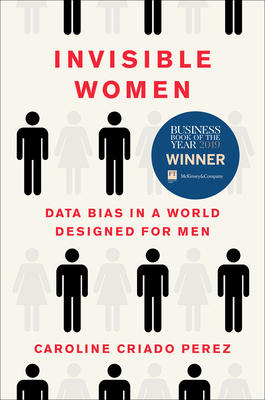 Invisible Women (Hardcover)
Data Bias in a World Designed for Men
Harry N. Abrams, 9781419729072, 272pp.
Publication Date: March 12, 2019
Other Editions of This Title:
Compact Disc (6/25/2019)
MP3 CD (6/25/2019)
* Individual store prices may vary.
About the Author
Caroline Criado Perez is a writer, broadcaster, and feminist activist, named Liberty Human Rights Campaigner of the Year and OBE by the Queen. She has a degree in English language and literature from the University of Oxford, and she studied behavioral and feminist economics at the London School of Economics. She lives in London.
Praise For Invisible Women: Data Bias in a World Designed for Men…
"Invisible Women is a game-changer; an uncompromising blitz of facts, sad, mad, bad and funny, making an unanswerable case and doing so brilliantly. … the ambition and scope — and sheer originality — of Invisible Women is huge; no less than the story of what happens when we forget to account for half of humanity. It should be on every policymaker, politician and manager's shelves."
— The Times (UK)
"A provocative, vital book."
— Publishers Weekly
"In clear language, the author builds a strong case for greater inclusion with this thoughtful and surprisingly humorous view of institutional bias and gendered information gaps. While some readers may suggest that equality has arrived and gender no longer matters, this book, which should have wide popular appeal, is a solid corrective to that line of thought."
— Kirkus Reviews
"As Invisible Women illuminates, in an almost overwhelming way, communities pay tremendous costs for the gender data gap: costs of income, time, women's health, and sometimes women's lives."
— Bustle
"Even with all the progress women have made in the last few decades, Invisible Women proves we still have a long way to go. Reading this book—preferably in a comfortably warm room—is the first step."
— PureWow
"Invisible Women is an absorbing cornucopia of thought-provoking facts - fascinating, alarming and face-palming in equal measures. Caroline Criado Perez shows up the shortcomings of a world designed for men by men. The consequences of treating men as the default option, or women just as smaller men – if they get considered at all - has wide-reaching implications for everything (and everyone) from snow clearing to seat-belts and many branches of medicine. I shall certainly think of this book next time I have a heart attack, a car crash or just want to go to the toilet at the theatre."
— Georgina Rippon
"The thoroughness of Invisible Women doesn't detract from its absolute readability. This is entertaining, scholarly and so very important."
— Adam Rutherford