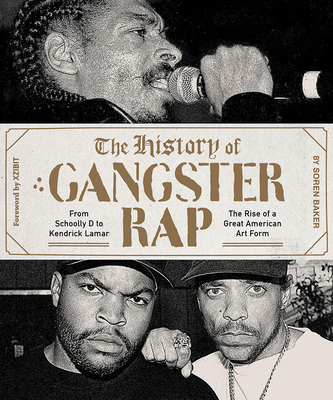 The History of Gangster Rap (Paperback)
From Schoolly D to Kendrick Lamar
Harry N. Abrams, 9781419729157, 304pp.
Publication Date: October 2, 2018
Other Editions of This Title:
MP3 CD (8/18/2019)
Compact Disc (8/18/2019)
* Individual store prices may vary.
About the Author
Soren Baker has written more than 3,500 articles, and his work is published in such outlets as the New York Times, Los Angeles Times, and Rolling Stone. Currently, he's working on producing a script he wrote for Snoop Dogg. He lives in Los Angeles.
Praise For The History of Gangster Rap: From Schoolly D to Kendrick Lamar…
"History has so often been written by the victors, that you very rarely ever get the real story behind anything. So it's really important to hear from the people that were there, which is exactly what Soren Baker shares in this book. He writes about it and he's honest about it."
— The D.O.C.
"Hip-hop changed the world. Gangster rap changed the narrative, and then changed the world again. Soren Baker has been a very integral part of documenting hip-hop on the West Coast for as long as I can remember. I don't think anybody is more qualified to write this book."
— Xzibit
"Soren Baker has changed the perspective of gangster rap by putting his pen to paper. He has given hip-hop power, proven its potential, and made non-believers contemplate all of its possibilities. The truth in his writing leaves no stone unturned, something he's done again with The History of Gangster Rap. Soren doesn't just champion hip-hop. He also reveals its flaws and its truths."
— Leslie "Big Lez" Segar
"This book is a masterclass that takes the reader through the meager beginnings of gangster rap's origins all the way to its position today as rap's most important and impactful subgenre. Soren's knowledge of the topic is seen throughout each page and the artists' trust in him is shown throughout thoughtful anecdotes and recollections. A highly recommended book for anyone who has a cursory interest in those who trailblazed and popularized the art. You'll leave with a much deeper appreciation for its impact and influence."
— Jonathan Abrams