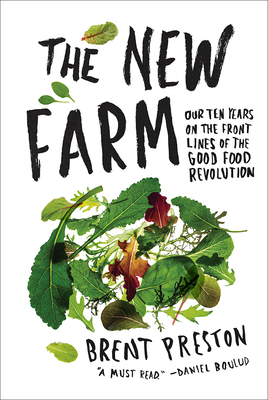 The New Farm (Hardcover)
Our Ten Years on the Front Lines of the Good Food Revolution
Harry N. Abrams, 9781419731082, 288pp.
Publication Date: March 27, 2018
* Individual store prices may vary.
About the Author
Brent Preston worked as a human rights investigator, aid worker, election observer, and journalist on four continents before finding his true calling as a farmer. With his wife, he runs The New Farm outside Creemore, Ontario.
Praise For The New Farm: Our Ten Years on the Front Lines of the Good Food Revolution…
"A must-read story told with honesty, humor, and humility by a passionate farmer who reminds us what our food system can and should be about."
— Daniel Boulud
"Preston uses brilliant storytelling and brutal honesty to describe what it takes to create both a viable organic farm and a more meaningful life for himself and his family. The New Farm is the kind of book that will inspire people to make positive change."
— Arianna Huffington
"An inspiring, galloping story of a farm that works—for everyone."
— Mark Bittman
"A terrific book. This city-slickers-struggle-to-become-farmers tale turns out to be so much more. Brent Preston recognizes that 'food is everything' and offers proof that individuals working small plots of land can transform that very food, which we rely on for our health and happiness. The New Farm is a compelling memoir, told in a fresh, original voice, about what matters most in life."
— Michael Ruhlman
"Both a book about the food system and a tell-all of his journey. . . . The ups, and mostly downs, he describes might have been a trial but they do make for a good read."
"A great gift for anyone interested in how their food is raised. … [Preston] is a gifted writer with a fully intact sense of humor, so the story rolls right along. … If we are ever to find a real alternative to the devastations of industrial agriculture, Mr. Preston's is exactly the kind of voice we need to hear."