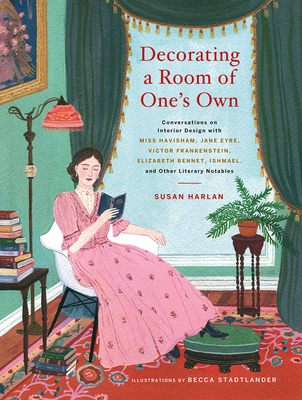 Decorating a Room of One's Own
Conversations on Interior Design with Miss Havisham, Jane Eyre, Victor Frankenstein, Elizabeth Bennet, Ishmael, and Other Literary Notables
Hardcover

* Individual store prices may vary.
Description
What would Little Women be without the charms of the March family's cozy New England home? Or Wuthering Heights without the ghost-infested Wuthering Heights? Getting lost in the setting of a good book can be half the pleasure of reading, and Decorating a Room of One's Own brings literary backdrops to the foreground in this wryly affectionate satire of interior design reporting. English professor and humorist Susan Harlan spoofs decorating culture by reimagining its subject as famous fictional homes and "interviews" the residents who reveal their true tastes: Lady Macbeth's favorite room in the castle, or the design inspiration behind Jay Gatsby's McMansion of unfulfilled dreams. Featuring 30 entries of notable dwellings, sidebars such as "Setting Up an Ideal Governess's Room," and four-color spot illustrations throughout, Decorating a Room of One's Own is the ideal book for readers who appreciate fine literature and a good end table.
Praise For Decorating a Room of One's Own: Conversations on Interior Design with Miss Havisham, Jane Eyre, Victor Frankenstein, Elizabeth Bennet, Ishmael, and Other Literary Notables…
With her insight as an English professor and an appreciation for great decor (plus the right amount of humor), Harlan has crafted the perfect read for literary fiends and design junkies alike.
— Laura Schocker

A masterful mash-up of highbrow literature and pervasive pop culture, this clever take on the classics will appeal to any book lover who can sheepishly admit their HGTV addiction.
— Ken Fulk, Interior Designer and Creative Director

As someone who pauses during a novel's steamy love scene to picture the gauzy bedding the author fleetingly mentions, I adored diving into Susan Harlan's quirky and hilarious take on famous literary homes. So. Much. Fun.
— Sherry Petersik

Apartment Therapy for bookish types and the literary characters they love, Decorating a Room of One's Own is weird and wonderful fan fiction at its most elegant and evocative.
— Maris Kreizman

"Susan Harlan's revisionary take on rooms of one's own is a lively romp through literary history. In her version of Interior Decorating 101, she redesigns parlors and bedchambers with sardonic sophistication for literary heroes and heroines. Put down your class notes, and take a look at this!"
— Sandra M. Gilbert
Abrams Image, 9781419732379, 208pp.
Publication Date: October 9, 2018
About the Author
Susan Harlan is an associate professor of English literature at Wake Forest University in Winston Salem, North Carolina, and a writer whose work has appeared in the Guardian US, the Toast, Roads & Kingdoms, McSweeney's Internet Tendency, Literary Hub, Jezebel, Curbed, the Hairpin, the Establishment, the Common, and the Awl.