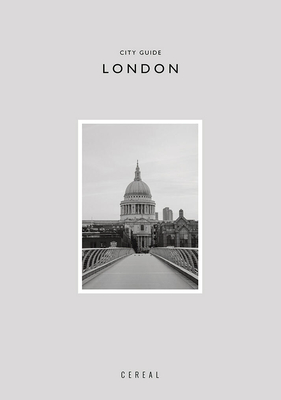 Cereal City Guide (Paperback)
London
Harry N. Abrams, 9781419732867, 208pp.
Publication Date: October 9, 2018
* Individual store prices may vary.
About the Author
Rosa Park is cofounder and editor in chief of Cereal. Rich Stapleton is Cereal's cofounder and art director. They live in Bath, England. Cereal is a biannual magazine known for its original take on fashion, design, and travel, with a readership of more than 120,000.
Praise For Cereal City Guide: London…
"When traveling, I want each minute of my limited time to be well spent, in the right places. Planning for this can be daunting. No more sifting through blogs and dense guide books to make my itinerary. Cereal has done it for me, in the most beautiful way."
— Erin Gleeson
"Cereal City Guides take a different approach to travel. They invite you to sit quietly in cafes favored by locals and meander down less-traveled paths to places of interest you've probably never heard of. Filled with handsome visuals and practical advice, they're exactly what you need to walk away feeling like you've experienced the stylish soul of a city."
— Emma Reddington
"This beautifully shot guide boasts a precise selection that blends historic Parisian institutions and emerging spots with a focus on good taste and design."
— Patrick Seguin
"What I love about these guides is the strength of the perspective. Everything inessential has been rigorously pared away, leaving a very focused take on each city."
— John Pawson
"Less is always more for me and these guides are the epitome of that. They're a really lovely cherry-picked selection of things to do and see across our favorite cities. They are thoughtful, special, and a real essential when traveling."
— Alex Eagle
"A beautifully curated guide . . . and a must read for all food, fashion, art, and design lovers."
— Rejina Pyo
"Cereal City Guides always give me that detail that I yearn for as a creative person when I'm traveling to my favorite cities. Rosa Park and Rich Stapleton work in total in harmony . . . Rich with his eye for beauty, perfection, and detail that is so enriching, and Rosa with her eye for finding the detail and perfection in all aspects of life, which is so satisfying. The combination is intriguing and inspiring."
— Lyn Harris
"Cereal City Guides turn cities into characters. They are like inspiring movies. Something that invites us instantly and intensely to go to what we already love, even if we have not gone yet. These are the memories of the journeys we want to take."
— Frédéric Forest
"For as much as I value the sense of discovery, it is comforting to know that you can trust a great recommendation when you decide to reach out. These guides provide an insightful perspective with Rich Stapleton's beautiful photography making you look at things in new ways."
— Michael Anastassiades