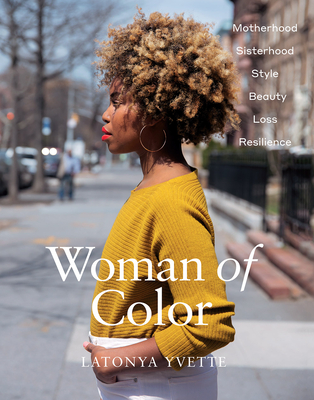 Woman of Color (Hardcover)
Harry N. Abrams, 9781419732942, 224pp.
Publication Date: April 2, 2019
* Individual store prices may vary.
About the Author
LaTonya Yvette is a stylist and lifestyle blogger. Her eponymous blog covers motherhood, style, and beauty. She lives in Brooklyn with her two children, River and Oak.
Praise For Woman of Color…
"LaTonya Yvette is a force. I've long admired her for not just her vibrant, cool-girl style but also her beautifully honest approach to motherhood, life, and loss. I devoured Woman of Color, from the warmly written stories about growing up in Brooklyn to her wise thoughts on grief to the fun tips for styling a capsule wardrobe. This book is a must-read for any and every kind of woman."

— Joanna Goddard
"Woman of Color is eloquently written, capturing a raw and beautiful truth that will leave you with a bit of magic as you flip through the pages. Intertwined with identity, storytelling, and becoming, LaTonya's voice and shared experience are necessary. This body of work is a must-have."

— Alexandra Elle, author of Words from a Wanderer and Neon Soul
"What LaTonya does is inherently political. Not because of her activism, not always because of her words, but because she shares her life, so beautifully and so heartfully, in a space that comprises mostly white women. LaTonya's voice, her insights, have shaped my desire to clean up my messy living space, but more importantly, have become a guide to motherhood, to work, to a joyful life, and to the feminist adage 'the personal is political.' Because the truth is, how we live our lives and fill our days are inherently political acts, both small and large. LaTonya is honest, bold, relatable, and not afraid to speak out. Woman of Color is a bright beacon in tumultuous days."

— Sarah Sophie Flicker, artist, activist, and national organizer of the Women's March on Washington
"Woman of Color is more than a book. Reading it feels like making a new friend who lets you in on their secrets, shares helpful resources, makes you feel good about yourself, and introduces you to their super cool friends too. Hats off to LaTonya for creating a book that is so personal and simultaneously so universal."

— Justina Blakeney, New York Times bestselling author of The New Bohemians
"[Woman of Color] is the memoir of a strong modern woman, mother, and entrepreneur living a life that honors her past and creates her version of the future. Mixed with tips learned from life and interviews from fellow women of color, it is an intimate look into LaTonya's story—one that is universal and can help us evolve into our best and future selves."

— Joy Cho, founder of Oh Joy!
"LaTonya's book, like LaTonya herself, defies definition. It's one part memoir, one part style guide, one part glimpse into the kind of everyday magic that anyone who knows LaTonya has experienced in real time. In these pages, LaTonya tells her own story with clarity and strength at the same time that she invites other women into the room to share theirs. In her characteristic style, LaTonya portrays a world that's bright, colorful, exuberant, and nuanced. She reminds us of the tools we have at our fingertips to access joy, honor pain, navigate loss, and ultimately, to triumph."

— Erin Boyle, creator of Reading My Tea Leaves and author of Simple Matters
"LaTonya Yvette has won over legions of fans with her remarkable ability to explore the 'funky in-between' versions of herself as a woman and a mother, and this book delivers on that richness times a thousand. Equal parts vulnerable and empowering, practical and poetic, gorgeous to look at and gritty to read, it's the kind of book you'll want to keep on your nightstand—so you're always an arm's length from someone who gets it."

— Jenny Rosenstrach, writer/creator of the website and book Dinner: A Love Story