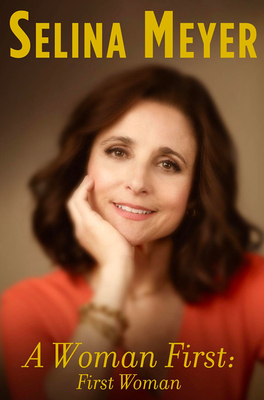 Woman First (Hardcover)
First Woman
Harry N. Abrams, 9781419733536, 224pp.
Publication Date: March 19, 2019
* Individual store prices may vary.
About the Author
In 2012, Selina Meyer made history when she was elected the first female vice president of the US as the running mate of President Stuart Hughes. When Hughes resigned in 2016, Meyer again electrified the world when she took charge in the Oval Office. Working round-the-clock with her signature drive and intelligence, Meyer managed to overcome decades of government indifference and inertia to create signature initiatives on a broad variety of fronts.
Praise For Woman First: First Woman…
"Well, here it is. Selina Meyer's book."
— President Laura Montez
"Oh, great."
— Vice-president Andrew Doyle
"I was pleasantly surprised the first time I read Selina Meyer's new book and I am guessing so was she."
— Senator Tom James
"I heard she was writing a book."
— Governor Danny Chung
"Just tell her I'm traveling and don't have time to read it."
— President Stuart Hughes
"Forthright. Honest. And very, very wise but a missed opportunity to tell the story of her struggles with mental health and her stay in the lunatic asylum."
— Finnish Prime Minister Minna Häkkinen
"…intriguing…"
— Leon West
"Catherine Meyer is a private individual who has spent her life establishing a positive reputation. Nevertheless, we have been reliably informed that a new book by her mother, former president Selina Meyer, contains untrue and defamatory statements about Ms. Meyer. Under the laws of New York State, it is unlawful for an individual to make deliberate statements, either verbally or in print, that will harm a person's reputation without factual evidence. This will serve as a pre-suit letter demanding that you provide us written assurance with 30 days that you will cease and desist from making any such statements either in print or in person."
— Messers. Blair, Underwood, and Berg