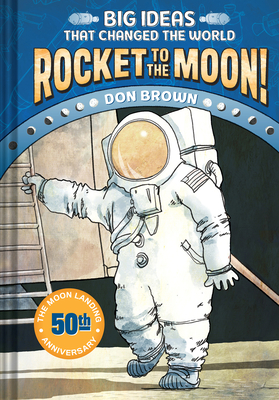 Rocket to the Moon!
Big Ideas That Changed the World #1
Hardcover

* Individual store prices may vary.
Description
Award-winning author Don Brown explores the history of rocket building in this installment of the Big Ideas That Changed the World series

"That's one small step for man, one giant leap for mankind." On July 20, 1969, Neil Armstrong said those iconic words when Apollo 11 landed on the moon. But it wasn't just one man who got us to the moon—there was a whole team of people, plus centuries of discoveries and technologies that came before, that made it possible. From ancient Chinese rockets to the first steps on the moon, Rocket to the Moon! reveals which "bombs bursting in air" inspired the writer of "The Star-Spangled Banner," why the Russians wanted to launch a dog into Earth's atmosphere, and how exactly astronauts are able to go to the bathroom while in a rocket far off in space!

Big Ideas That Changed the World is a graphic novel series that celebrates the hard-won succession of ideas that ultimately changed the world. Humor, drama, and art unite to tell the story of events, discoveries, and ingenuity over time that led humans to come up with a big idea and then make it come true.

Praise For Rocket to the Moon!: Big Ideas That Changed the World #1…
**STARRED REVIEW**
"Keeping the tone light and offering nods as he goes to historical figures . . . he focuses on technological advances that made space travel possible and on the awesome, sustained effort that brought President John F. Kennedy's "Big Idea" to fruition . . . A frank, often funny appreciation of our space program's high-water mark."
— Kirkus Reviews

**STARRED REVIEW**
"Brown addresses information that's sometimes omitted from children's texts: only men were considered for the early astronaut programs, people and animals died in rocket tests and space flights, and Wernher von Braun forced concentration camp prisoners to build rockets for the Nazis before he surrendered to the Americans . . . A must for youth graphic collections."
— School Library Journal

**STARRED REVIEW**
"Brown uses his characteristic watercolors and mix of explanation and primary source quotes to balance art and science . . . The illustrations keep pace with the story and maintain the reader's interest throughout."
— School Library Connection

"A broad yet eye-opening tribute to the astronauts' achievements . . . The Big Ideas That Changed the World series is off to a promising start with this illuminating, cogent volume."
— Booklist

"Engaging . . . [Brown] peppers the oft-told tale with details that don't always make it to the textbooks."
— The Bulletin of the Center for Children's Books

"Brown's visual storytelling offers humor, vibrancy, and a wealth of historical insight."
— Publishers Weekly
Amulet Books, 9781419734045, 136pp.
Publication Date: March 5, 2019
About the Author
Don Brown is the award-winning author and illustrator of many nonfiction graphic novels and picture books. His books have been called "masterful" and "a must for youth graphic collections." Brown has received an Eisner nomination, two Sibert Honors, a Horn Book Best Book honor, a YALSA award, and multiple starred reviews, among other awards and notices. He lives in Hudson Valley, New York, with his family.