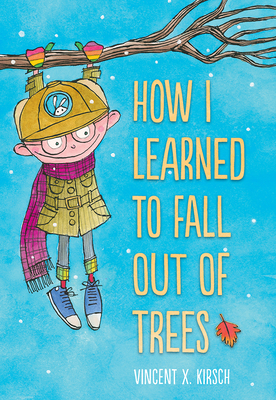 How I Learned to Fall Out of Trees (Hardcover)
Harry N. Abrams, 9781419734137, 40pp.
Publication Date: April 23, 2019
* Individual store prices may vary.
About the Author
Vincent X. Kirsch is the author-illustrator of many books for children, including Natalie & Naughtily, as well as the illustrator of other titles, including Noah Webster and His Words. He lives in Beverly Hills, California.
Praise For How I Learned to Fall Out of Trees…
"A primer on both getting up into the leaves and coping with the loss of someone you're attached to. Kirsch elegantly makes the connection with affirmations that work both ways: 'Hang on tight with both hands'; 'take it one branch at a time'; and, inevitably, 'letting go will be the hardest part!' . . . A well-cultivated story that plants a seed about the value of friends and what they leave with us, even when they're gone"
— Kirkus Reviews
How I Learned to Fall Out of Trees
by Vincent X. Kirsch; illus. by the author
Primary Abrams 40 pp.
4/19 978-1-4197-3413-7 $16.99
Adelia and Roger are best friends, but Adelia is moving away. In a thoughtful effort to prepare Roger for her absence, Adelia teaches him how to climb a tree and, because he is concerned about it, "how to fall." The left side of each spread in the book's first half features third-person text and circular illustrations showing all the items Adelia is collecting; these items include not just soft feathers and leaves but the stuffed animals they once played with, the pillows they had used to make forts, etc. The right side of the book features Adelia's instructions to Roger, depicted in speech balloons. Her helpful advice can be read on more than one level: instructions such as "hang on tight with both hands" and "when you're ready, climb up to the next branch" make good guidelines for life as well as tree-climbing. The pacing slows in the last six spreads, as Roger reluctantly says goodbye ("Letting go will be the hardest part") and climbs the tree. But, knowing that Adelia had prepared to lessen the pain of his fall in more ways than one, he falls with a smile into the pile of soft objects Adelia had been gathering. Kirsch's story spans the seasons; the endpapers subtly depict the passage of time via leaves changing color from spring and summer to autumn. This tender story, sweet without being saccharine, is an eloquent metaphor for saying goodbye and allowing memories to cushion the blow.

— The Horn Book