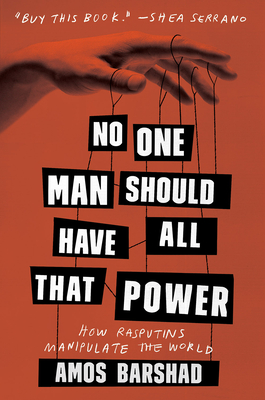 No One Man Should Have All That Power (Hardcover)
How Rasputins Manipulate the World
Abrams Press, 9781419734557, 240pp.
Publication Date: April 9, 2019
* Individual store prices may vary.
Description
An exploration of infamous, controversial figures and how they exert control.

Amos Barshad has long been fascinated by the powerful. But not by elected officials or natural leaders—he's interested in the scheming advisors, the dark figures who wield power in the shadows. And, as Barshad shows in No One Man Should Have All That Power, the natural habitat of these manipulators is not only political backrooms. It's anywhere power dynamics exist—from Hollywood to drug cartels, from recording studios to the NFL.

In this wildly entertaining, wide-ranging, and insightful exploration of the phenomenon, Barshad takes readers into the lives of more than a dozen figures, examining how they rose to power and wielded control, what led to their downfall or staved it off, and what lessons we can take from them. Based on original reporting and interviews with well-known personalities like Scooter Braun (Justin Bieber's manager), Alex Guerrero (Tom Brady's trainer), and Sam Nunberg (Trump's former aide), No One Man Should Have All That Power is an eye-opening book from an exciting new voice.
About the Author
Amos Barshad is a former senior writer at the FADER and former staff writer at Grantland and New York Magazine. He has written for the New Yorker, the New York Times, Slate, GQ, and the Arkansas Times. He lives in Brooklyn. This is his first book.
Praise For No One Man Should Have All That Power: How Rasputins Manipulate the World…
"The idea of power—of influence, of control, of bending an arc toward your will—is fascinating. And Amos Barshad drops you into a discussion of it here, in both of its forms, good and bad (mostly bad), with an almost offensive ease. And being able to do that is its own form of power, really; an irony that does not appear lost on Barshad. Buy this book."
— Shea Serrano
"No One Man Should Have All That Power is not really the examination of a specific person. It's an examination of a specific type of person, and ultimately the dissection of how a specific type of person can warp the world to his advantage, often for motives that only become clear in retrospect. This is mostly a book about shadow manipulation. But it's also a book about how certain conspiracies are real, simply because they aren't conspiracies at all."
— Chuck Klosterman