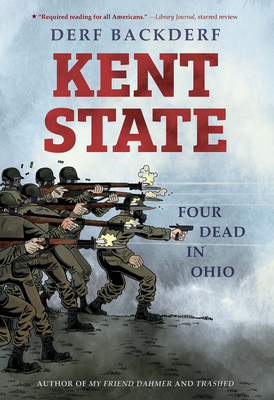 Kent State
Four Dead in Ohio
Hardcover

* Individual store prices may vary.
Praise For Kent State: Four Dead in Ohio…
"[Backderf's] expertly crafted chronicle of this defining moment in U.S. history serves as a deeply moving elegy for the victims. Readers may also draw from it sobering parallels to the deep divisions of contemporary times, again dangerously rife with media noise and misinformation muddying the waters."
— Publishers Weekly, STARRED Review

"An incendiary corrective to the myths and misconceptions surrounding these events and a memorial to the lives lost or forever altered that should be required reading for all Americans."
— Library Journal - STARRED review

"Deeply researched and gut-wrenching…"
— The New Yorker

"One of the masterpieces of the medium...a work of devastating emotional impact."
— Rob Salkowitz

"The meticulous research is shown in more than two dozen pages of notes, confirming the sources from the Kent State University May 4 Collection about the shootings, but also Backderf's personal research and interviews."
— The Akron Beacon Journal

"Kent State is meticulously researched…Backderf is in total artistic control of his material."
— Cleveland Review of Books

"Derf Backderf brings historical context and a propulsive sense of narrative to this graphical history of the Kent State shootings."
— Etelka Lehoczky

"The book not only illuminates history but also brings a form of closure to an unforgivable, inexcusable episode."
— The Pittsburgh Post-Gazette

"Kent State, unfolding in sober black and white, is as passionate as it is meticulous in its treatment of the May 4, 1970 killings of four unarmed college students by the Ohio National Guard."
— The New York Times Book Review

"While removed from the events by a half-century, by the time the memoir spirals into the final spasm of chaos, the tragedy these boldly drawn panels feel fresh as if from yesterday's news."
— PopMatters

"Surely the graphic novel of the year, and an early entry onto the next Best of the Decade lists."
— Forbes
Harry N. Abrams, 9781419734847, 288pp.
Publication Date: September 8, 2020
About the Author
Derf Backderf is the bestselling, award-winning author of My Friend Dahmer and Trashed. He lives in Cleveland, Ohio.