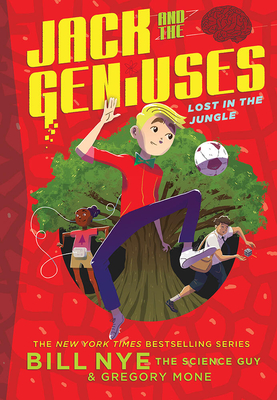 Lost in the Jungle
Jack and the Geniuses Book #3
Paperback

* Individual store prices may vary.
Other Editions of This Title:
Hardcover (5/1/2018)
Audio (5/1/2018)
Description
An idea that could help bring internet access to remote parts of the world takes Jack and his genius siblings deep into the Amazon rainforest in the final thrill-packed adventure in the New York Times bestselling series from Bill Nye and Gregory Mone!

Dr. Hank Witherspoon has disappeared. When Jack and his genius siblings, Ava and Matt, find Hank's lab ransacked, they uncover clues pointing them to Brazil—but many questions remain. Why was Hank studying dangerous electric eels? And who is trying to steal his inventions? Their investigation leads them to a soccer prodigy, his savvy sister, a business tycoon who zips around on motorized boots, and a strangely incompetent riverboat captain.

In the depths of the Amazon rain forest, the three siblings and their new friends must overcome deadly piranhas, stealthy jaguars, and the dreaded "Trail of Pain" to save Hank . . . and make it out alive.

In the Jack and the Geniuses series, readers join Jack, Ava and Matt on adventures around the world to tackle some of science's biggest challenges, including new ways to create clean drinking water, to generate clean and renewable energy, and to extend information access to the entire planet. Each book in the series includes cool facts about the real-life science found in the story and a fun DIY project.

Amulet Paperbacks, 9781419734854, 288pp.
Publication Date: May 14, 2019
About the Author
Bill Nye is a New York Times–bestselling author, mechanical engineer, and television host best known for his television show Bill Nye the Science Guy. He splits his time between New York and Los Angeles.

Gregory Mone is the author of several bestselling works of fiction and nonfiction for both children and adults. He is a contributing editor at Popular Science and an award-winning science writer. A graduate of Harvard College, he lives with his family on Martha's Vineyard.