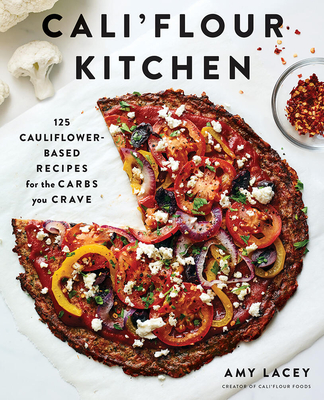 Cali'flour Kitchen
125 Cauliflower-Based Recipes for the Carbs You Crave
Paperback

* Individual store prices may vary.
Description
From the founder of Cali'Flour Foods comes a cookbook that offers guilt-free recipes for every carb craving! Welcome back pizza, pasta, cookies, and sandwiches with 125 recipes!

Cali'Flour Foods has helped millions transform splurge foods into superfoods. And now, their first cookbook, Cali'Flour Kitchen, offers recipes for the dishes you haven't been able to enjoy for years—from French Onion Soup and Quiche Lorraine to pizza, cookies, enchiladas, and lasagna. Cali'Flour Kitchen is designed for people across the dietary spectrum, providing perfect, guilt-free recipes for every carb-heavy craving, whether you're eating vegan, dairy-free, keto, paleo, or a plant-based diet. For those suffering from health issues like diabetes and autoimmune diseases, this cookbook reintroduces those favorites that have long been forsaken, reinventing them to include a full serving of vegetables. With more than 125 recipes and photos plus detailed how-tos on creating cauliflower crusts, rice, crisps, wraps, and zoodles, Cali'Flour Kitchen is all about indulging without compromising health.

Praise For Cali'flour Kitchen: 125 Cauliflower-Based Recipes for the Carbs You Crave…
"You won't believe how many different ways you can transform cauliflower into healthy meals until you read Cali''lour Kitchen! I thought I had seen it all, but Amy Lacey takes cooking healthfully with cauliflower to a whole other level, way beyond cauliflower pizza and cauliflower rice (although she includes inventive recipes for those as well!) She turns cauliflower into Eggs in a Basket, blends it into soups to make them wholesomely creamy, makes cauliflower bread croutons, and even into cookies! Every recipe is a surprise and whether you're cooking for yourself or trying to impress a crowd, there's something in this cookbook for everyone. Who knew cauliflower could do so much!"
— Ali Maffucci

"Everyone knows cauliflower is good for you, but who would have thought this modest vegetable could be the base of delicious, nourishing meals like pizza? Amy Lacey has elevated the lowly cauliflower to rockstar status in Cali'flour Kitchen. Building on the experience she gained overcoming a major health crisis, Amy has developed a plethora of delicious meals that will leave the most vegetable phobic person you know saying 'this is cauliflower?!'"
— Robb Wolf

"Amy doesn't just focus on low-carb, she focuses on the benefits of cauliflower altogether. It's like people sometimes forget that cauliflower is also nutritious and not just a delivery system for tasty cheeses and sauces! Amy puts it all together with this cauliflower wonderland!"
— Thomas DeLauer

"Cali'Flour Kitchen is an absolute gift for those of us who love carbs but our bodies don't! As a woman who is forty-five years old and devoted to taking exceptional care of herself, these recipes make fueling up on power foods easy and delicious."
— Susan Hyatt
Abrams, 9781419735967, 240pp.
Publication Date: January 15, 2019
About the Author
Amy's Cali'flour products have won numerous awards, have been featured in Food & Beverage Magazine,GQ, and OK! magazine and as one of "Whoopi's Favorite Things" on The View. Cali'flour is a two-time Clean Eating magazine award winner.
or
Not Currently Available for Direct Purchase