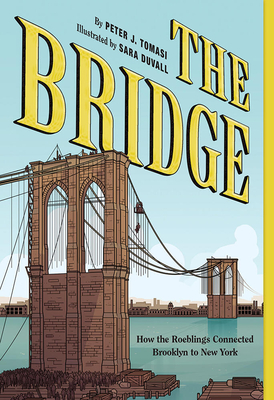 The Bridge
How the Roeblings Connected Brooklyn to New York
Paperback

* Individual store prices may vary.
Other Editions of This Title:
Hardcover (4/17/2018)
Description
In this extraordinary graphic novel, author Peter J. Tomasi and illustrator Sara DuVall bring to life the construction of one of the most iconic landmarks in the world and shine a light on the incredible triumphs and tragedies that went into building the Brooklyn Bridge. After the accidental death of John Augustus Roebling in 1869, it was up to Roebling's son Washington to complete the massive project. Unfortunately, there was more pain to follow, as Washington developed caisson disease, leaving him bedridden. Washington's wife, Emily, deftly assumed a key role in the bridge's construction by becoming her husband's eyes and ears at the work site. As Washington's wisest council, Emily skillfully navigated work crews who now had to answer to a woman, contractors, a hostile press, and a greedy city politician—all looking to take credit for the magnificent bridge slowly making its way across the East River. Through it all, the Roeblings persisted, rising above every obstacle to build the great bridge that connects Brooklyn and New York.
Abrams ComicArts, 9781419736162, 208pp.
Publication Date: March 12, 2019
About the Author
Peter J. Tomasi is a former editor at DC Comics and a New York Times bestselling author known for his work on the characters Green Lantern, Batman, Robin, Superman, and Wonder Woman, and various series including Nightwing, The Outsiders, and Batman: Arkham Knight. He lives in New York City.
Sara Duvall
is a comics illustrator. Aside from the usual bird things, she also likes space kids, witches, and a good cup of hard cider.
The Bridge
is her first graphic novel. She lives in the Pacific Northwest.