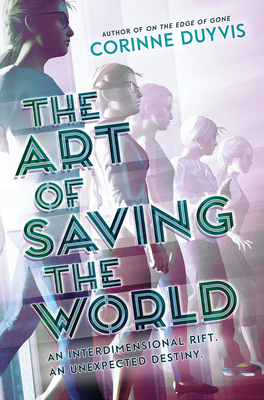 The Art of Saving the World (Hardcover)
Amulet Books, 9781419736872, 384pp.
Publication Date: September 15, 2020
* Individual store prices may vary.
Description
One girl and her doppelgangers try to stop the end of the world in this YA sci-fi adventure

When Hazel Stanczak was born, an interdimensional rift tore open near her family's home, which prompted immediate government attention. They soon learned that if Hazel strayed too far, the rift would become volatile and fling things from other dimensions onto their front lawn—or it could swallow up their whole town. As a result, Hazel has never left her small Pennsylvania town, and the government agents garrisoned on her lawn make sure it stays that way. On her sixteenth birthday, though, the rift spins completely out of control. Hazel comes face-to-face with a surprise: a second Hazel. Then another. And another. Three other Hazels from three different dimensions! Now, for the first time, Hazel has to step into the world to learn about her connection to the rift—and how to close it. But is Hazel—even more than one of her—really capable of saving the world?


About the Author
Corinne Duyvis is a novelist and short story writer and an editor of the website Disability in Kidlit. She's a graduate of the Clarion West writer's workshop and lives in Amsterdam. Her first novel, Otherbound, received four starred reviews, and Horn Book called it "a humdinger of an adventure that contains the agony of loyalty, the allure of magic, and, most gratifyingly, the element of surprise." Visit her website at www.corinneduyvis.com and follow her on Twitter @corinneduyvis.