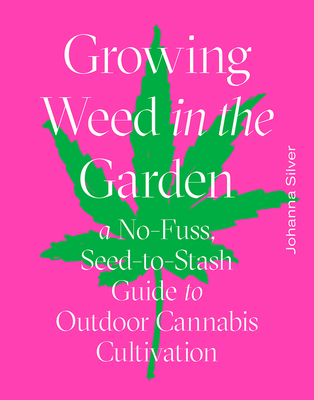 Growing Weed in the Garden (Hardcover)
A No-Fuss, Seed-to-Stash Guide to Outdoor Cannabis Cultivation
Abrams, 9781419742767, 256pp.
Publication Date: March 24, 2020
* Individual store prices may vary.
Description
The definitive and first-ever guide dedicated exclusively to growing weed in your home garden

From the former garden editor of Sunset magazine, Johanna Silver, Growing Weed in the Garden brings cannabis out of the dark, into the sunlight. This groundbreaking, comprehensive guide to incorporating weed into your garden leads you from seed or plant selection to harvest. Filled with gorgeous photographs of beautiful gardens, as well as step-by-step photography that shows how to dry, cure, and store cannabis, make tinctures and oils, and roll the perfect joint, this book provides all the information you need to grow and enjoy cannabis. For both the stoned and sober, the new and seasoned gardener, Growing Weed in the Garden is the definitive guide to doing just that.

About the Author
Johanna Silver contributes regularly to Better Homes & Gardens and Martha Stewart Living and is the go-to cannabis gardener for the San Francisco Chronicle. She was awarded a James Beard for her contributions to Sunset's One Block Diet project. Rachel Weill is a travel, food, and lifestyle photographer. Her work has appeared in many publications, including the Los Angeles Times Sunday Magazine, Condé Nast Traveler, and Town & Country.
Praise For Growing Weed in the Garden: A No-Fuss, Seed-to-Stash Guide to Outdoor Cannabis Cultivation…
"Beautifully photographed and with clear, expert advice, this very good primer for growing grass makes it easy to harvest and process a fine crop at home. I need two copies—one for me and one for Snoop."
— Martha Stewart
"Johanna Silver does an excellent job of showing gardeners what's possible by their own hands in their own yards. One warning: using marijuana may not be addictive, but growing it is."
— Ed Rosenthal, cofounder of High Times magazine and author of The Marijuana Grower's Handbook
"This fun and practical guide from an expert homegrower shows how easy it is to grow pot, even for beginners, and will make even the non-stoner appreciate the plant and want to start growing."
— Pat Goggins, editor at Leafly
"For those interested in cannabis, from the history of the plant to how to raise it in your backyard, this book provides the necessary information along with beautiful photos and welcome doses of humor."
— American Gardener Magazine
"Silver's book…is the best, most reassuring resource I've found about growing small amounts of weed outdoors."
— Chicago Reader