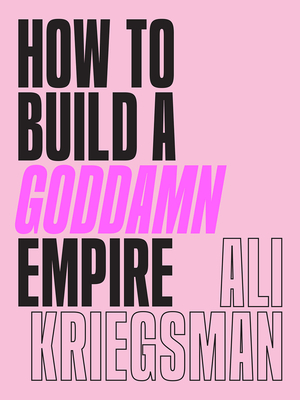 How to Build a Goddamn Empire
Advice on Creating Your Brand with High-Tech Smarts, Elbow Grease, Infinite Hustle, and a Whole Lotta Heart
Hardcover

* Individual store prices may vary.
Description
From the cofounder of the revolutionary brand Bulletin, a business book that demystifies the world of entrepreneurship in real-time, from the trenches

Filled with heart and humor, How to Build a Goddamn Empire shares the real-world, hard-earned business wisdom of one female entrepreneur who transformed an idea into a massive, category-disrupting national brand. As a first-time and inexperienced founder, Ali Kriegsman felt like she couldn't relate to the glossy, glamorous entrepreneurs crowding her Instagram feed. In reality, Kriegsman learned, building something from nothing is a daily fight with your imposter syndrome, a crash course in venture-capitalist speak, and, as she learned in 2020, a constant battle to weather the storm of an ever-changing marketplace. While in the thick of scaling her business, making a stressful pivot, and managing a team of employees through an unprecedented global pandemic, Kriegsman decided to write about her experience, in the hopes that it will act as a guidepost to future founders.

With chapters ranging from "The Business You Start Isn't the Business You'll Run" to "Press ≠
Success," Ali Kriegsman demystifies the world of entrepreneurship in real time, from the trenches. In "Hard Decisions" Kriegsman shares her experiences of managing the company through the COVID-19 crisis with heart and searing honesty.

How to Build a Goddamn Empire also features words of wisdom from some of Kriegsman's fellow female founders who have built successful companies of radically different stages and sizes. By using the questions she's most frequently asked as her blueprint, Kriegsman offers candid insights into the nuts and bolts of building a brand from scratch—discussing early failures, picking the right cofounder, securing press, finding funding, and even staying afloat during a crisis—to give women the tools that will help take their ideas to the next level.
Praise For How to Build a Goddamn Empire: Advice on Creating Your Brand with High-Tech Smarts, Elbow Grease, Infinite Hustle, and a Whole Lotta Heart…
"Kriegsman is on a mission to show more women that success doesn't mean never experiencing setbacks."
— The TODAY Show

"Ali brings her ability to be business savvy and creative to the table, in a handguide on building an empire of your very own."
— The Glitter Guide

"Have you ever wondered what it's like to build a goddamn empire? If anyone knows, it's Ali Kriegsman."
— The Female Quotient

"Prepare to be inspired by Ali Kriegsman's wisdom. What makes Ali Kriegsman's first book, How to Build a Goddamn Empire, so appealing—I devoured it in days—is that she demystifies the process with an irresistible, down-to-earth blend of heart, humor, and most importantly, expertise. She knows a thing or two about turning an idea into a business, bootstrapping, navigating venture capital circles, pivoting, side-hustling; the list goes on."
— BlogHer
Abrams Image, 9781419742903, 288pp.
Publication Date: April 6, 2021
About the Author
Ali Kriegsman is the cofounder of Bulletin, a retail technology company that makes it easy for digitally native brands to access physical retail space through its wholesale marketplace.