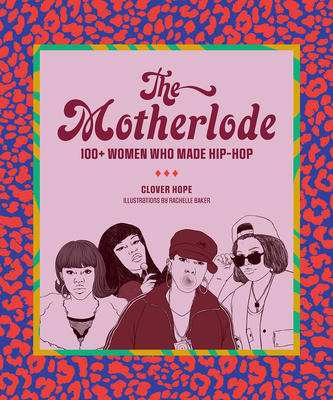 The Motherlode
100+ Women Who Made Hip-Hop
Paperback

* Individual store prices may vary.
Description
An illustrated highlight reel of more than 100 women in rap who have helped shape the genre and eschewed gender norms in the process

The Motherlode highlights more than 100 women who have shaped the power, scope, and reach of rap music, including pioneers like Roxanne Shanté, game changers like Lauryn Hill and Missy Elliott, and current reigning queens like Nicki Minaj, Cardi B, and Lizzo—as well as everyone who came before, after, and in between. Some of these women were respected but not widely celebrated. Some are impossible not to know. Some of these women have stood on their own; others were forced into templates, compelled to stand beside men in big rap crews. Some have been trapped in a strange critical space between respected MC and object. They are characters, caricatures, lyricists, at times both feminine and explicit. This book profiles each of these women, their musical and career breakthroughs, and the ways in which they each helped change the culture of rap.

Praise For The Motherlode: 100+ Women Who Made Hip-Hop…
"This is the quintessential, comprehensive book about women in the rap industry that I've been waiting for. It shines a bright light on a history of overlooked female talent and breaks down the ingenuity of our current generation of stars."

--Issa Rae, creator and star of HBO's Insecure
— Issa Rae
"This book is achingly overdue. Women in hip-hop, as musicians, journalists, and executives, have always dealt with a staggering and sobering truth. Hip-hop, which we love and hold dear, does not always love us back. With The Motherlode, Clover Hope loves on us. She peels back the layers--the joy and pain--and makes sure our untold stories are now told and retold."

--Aliya S. King, New York Times bestselling coauthor of Keep the Faith
— Aliya S. King
"Clover Hope has offered up here such an engaging, enlightening, addictive book. It's one of those reading experiences where you say to yourself, 'Okay, let me just read one more chapter,' and then two hours later you're sitting there having accidentally read a third of the book swearing to yourself, 'Okay, but for real this time, just one more chapter.' I wish I could read it again for the first time."

--Shea Serrano, New York Times bestselling author of The Rap Year Book
— Shea Serrano
"This book is a lively colorful celebration of the flyest formidable forces that keep rap music flourishing into the future."

--Elliott Wilson, music journalist, chief content officer of TIDAL
— Elliott Wilson
Abrams Image, 9781419742965, 240pp.
Publication Date: February 2, 2021
About the Author
Clover Hope is a writer and editor based in Brooklyn. Hope's work has appeared in the pages of Vogue, Vibe, Billboard, the New York Times, WIRED, ESPN The Magazine, Essence, and the Village Voice, among other publications. She is currently the culture editor for Jezebel.