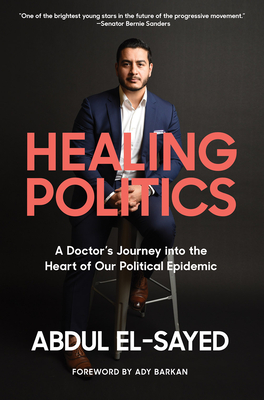 Healing Politics (Hardcover)
A Doctor's Journey into the Heart of Our Political Epidemic
Abrams Press, 9781419743023, 352pp.
Publication Date: May 5, 2020
* Individual store prices may vary.
Description
From a rising voice in progressive politics, a combination of memoir, science, and public policy, diagnosing the challenges facing America and laying out a way forward

A child of immigrants, Abdul El-Sayed grew up feeling a responsibility to help others. He threw himself into the study of medicine and excelled—winning a Rhodes Scholarship, earning two advanced degrees, and landing a tenure-track position at Columbia University. At 30, he became the youngest city health official in America, tasked with rebuilding Detroit's health department after years of austerity policies.

But El-Sayed found himself disillusioned. He could heal the sick—even build healthier and safer communities—but that wouldn't address the social and economic conditions causing illness in the first place. So he left health for politics, running for Governor of Michigan and earning the support of progressive champions like Congresswoman Alexandria Ocasio-Cortez-Cortez and Senator Bernie Sanders.

In Healing Politics, El-Sayed traces the life of a young idealist, weaving together powerful personal stories and fascinating forays into history and science. Marrying his unique perspective with the science of epidemiology, El-Sayed diagnoses an underlying epidemic afflicting our country, an epidemic of insecurity. And to heal the rifts this epidemic has created, he lays out a new direction for the progressive movement. This is a bold, personal, and compellingly original book from a prominent young leader.
About the Author
Dr. Abdul El-Sayed is a physician, epidemiologist, public health expert, and progressive activist. He was appointed health director of Detroit at 30 years old. He's a former professor at Columbia University's Mailman School of Public Health. He holds a doctorate in public health from Oxford University as a Rhodes Scholar, and a medical degree from Columbia University.
Praise For Healing Politics: A Doctor's Journey into the Heart of Our Political Epidemic…
"Abdul El-Sayed understands something very profound. That at the end of the day, no matter how much wealth and power the big moneyed interests have... that at the end of the day, what is more important than their money is ordinary people coming together in the struggle for economic, social, racial, and environmental justice."
— Sen. Bernie Sanders
"Abdul inspires me, his commitment inspires me, his background, his work inspires me, and we have to have each other's backs."
— Rep. Alexandria Ocasio Cortez