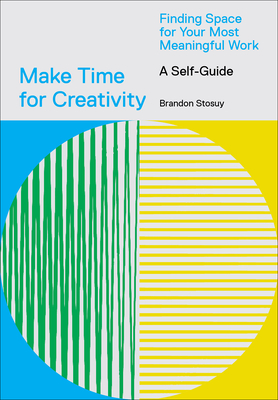 Make Time for Creativity
Finding Space for Your Most Meaningful Work (A Self-Guide)
Paperback

* Individual store prices may vary.
Description
Part artistic retreat, part guide to living a creative life

Venture into a space that intimately discusses how to find time to express yourself and develop your talents. Author Brandon Stosuy (co-founder of The Creative Independent) taps into a diverse network of working artists to provide perspective on how creativity can be prioritized among the other demands on your time. Posing a series of questions on the themes of defining work-life balance, forming daily rituals, setting intentions, meeting goals, and taking time off from creativity, this book provides an inspiring framework for building your own creative process and using your time meaningfully.

Includes quotes by: Hanif Abdurraqib, Matthew Barney, David Byrne, Vernon Chatman, Cynthia Daignault, Sadie Dupuis, Tina Roth Eisenberg, Josh Fadem, Haley Fohr, Brooks Ginnan, Sasha Hecht, Hermione Hoby, Chelsea Hodson, Jenny Hval, Matthew Day Jackson, Elaine Kahn, Emma Kohlmann, Prem Krishnamurthy, R. O. Kwon, Dorothea Lasky, Sigrid Lauren, Shanekia McIntosh, Mitski, Eileen Myles, Henry Rollins, JD Samson, Sufjan Stevens, Lavender Suarez, Jia Tolentino, Amelia Trask, Justin Vernon, Clive Smith, and Chariot Wish

Praise For Make Time for Creativity: Finding Space for Your Most Meaningful Work (A Self-Guide)…
"Brandon Stosuy has built so many platforms for others to explore their curiosities, and I would be beyond eager to see his own words and curiosities leaping off of the page."
— Hanif Abdurraqib

"The Creative Independent, co-founded and edited by Brandon, is what I actually read when I want to know how other artists really work, what they feel, how they live, in more specific and intimate language than I'd ever get from any other press outlet. This has been vital in my otherwise very isolated and unique life as a working artist. I'm certain Brandon's book will satisfy a similar need as TCI does for me, not just for artists, but for anyone who is trying to make something out of nothing, even when no one else around seems to need or want what you do."
— Mitski

"Nineteen years ago Brandon Stosuy was the first professional writer (and only for a while) to articulate what it was I was trying to do emotionally with my songwriting. He also turned me on to a bunch of ways to do it better. He's been a sort of beacon of encouragement and motivation for me every since. Brandon is really the only writer I still care about impressing. Everyone should be so lucky to have someone this wise and kind and honest around them. This book will give everyone the guidance and advice I've been getting for a long time."
— Matt Berninger

"Brandon Stosuy doesn't just know the culture inside out. He is the culture."
— Ed Park

"In the filtered, branded, faux-authenticized, click-bitten, hyper-performative hellscape we call modern life, Brandon Stosuy's DIY ethos, spirit of integrity and curatorial creativity are a beacon of uncancellable light. We need his voice everywhere."
— Melissa Broder

"Brandon Stosuy is a powerhouse of creativity. He has navigated a sometimes cruel world, where the spirit of the new is often maligned, and approached this negativity with both otherworldly grace and humor. Over his extensive career, he has made so many important spaces for writers, musicians, and artists, and his story is one of hope, freedom, and change. His book is sure to be worshipped for many years to come. May it nourish your own inner creative independence!"
— Dorothea Lasky
Abrams Image, 9781419746536, 144pp.
Publication Date: September 8, 2020
About the Author
Brandon Stosuy is the cofounder and editor in chief at The Creative Independent, the cofounder of the annual Basilica SoundScape festival in Hudson, New York, the cofounder of Zone 6 Artist Management and Gallery, and has been a music curator at both the Broad Museum in Los Angeles and MoMA PS1 in New York City. In addition to Make Time for Creativity, Stay Inspired, and How to Fail Successfully, he is the author of two children's books, Music Is . . . and We Are Music.