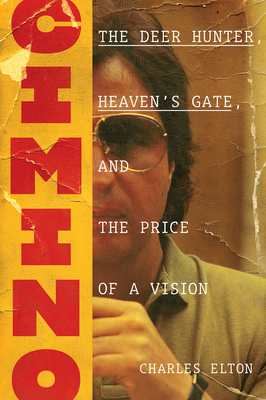 Cimino
The Deer Hunter, Heaven's Gate, and the Price of a Vision
Hardcover

* Individual store prices may vary.
Other Editions of This Title:
Digital Audiobook (3/28/2022)
Paperback (3/21/2023)
MP3 CD (3/29/2022)
Compact Disc (3/29/2022)
Description
The first biography of critically acclaimed then critically derided filmmaker Michael Cimino—and a reevaluation of the infamous film that destroyed his career
The director Michael Cimino (1939–2016) is famous for two films: the intense, powerful, and enduring Vietnam movie The Deer Hunter, which won Best Picture at the Academy Awards in 1979 and also won Cimino Best Director, and Heaven's Gate, the most notorious bomb of all time. Originally budgeted at $11 million, Cimino's sprawling western went off the rails in Montana. The picture grew longer and longer, and the budget ballooned to over $40 million. When it was finally released, Heaven's Gate failed so completely with reviewers and at the box office that it put legendary studio United Artists out of business and marked the end of Hollywood's auteur era.

Or so the conventional wisdom goes. Charles Elton delves deeply into the making and aftermath of the movie and presents a surprisingly different view to that of Steven Bach, one of the executives responsible for Heaven's Gate, who wrote a scathing book about the film and solidified the widely held view that Cimino wounded the movie industry beyond repair. Elton's Cimino is a richly detailed biography that offers a revisionist history of a lightning rod filmmaker. Based on extensive interviews with Cimino's peers and collaborators and enemies and friends, most of whom have never spoken before, it unravels the enigmas and falsehoods, many perpetrated by the director himself, which surround his life, and sheds new light on his extraordinary career. This is a story of the making of art, the business of Hollywood, and the costs of ambition, both financial and personal.
Praise For Cimino: The Deer Hunter, Heaven's Gate, and the Price of a Vision…
"assiduously researched and fascinating"
— The Wall Street Journal

"Intriguing...Elton has a sure hand with behind-the-scenes details and is even-handed in his appraisals...A somewhat murky picture of Cimino emerges, though Elton wrestles commendably with an elusive subject...Film buffs will find much to enjoy."

— Publishers Weekly

"One of the strangest and most mysterious of all Hollywood lives gets the treatment it's been crying out for in this brilliantly insightful biography."
— author of Fall: The Mysterious Life and Death of Robert Maxwell, Britain's Most Notorious Media Baron

"While Elton's book first appears structured as a conventional biography, it ultimately plays more like a mystery novel, as the author interrogates various witnesses in search of the Rosebud that offers a key to Cimino's hidden life"
— The Hollywood Reporter

"I inhaled this book in two sittings. In a magnificent feat of investigative reporting, Charles Elton provides a revelatory reappraisal of Michael Cimino and a tragicomic portrait of late twentieth-century Hollywood."
— author of Notes on a Scandal

"Charles Elton's new book, featuring exhaustive original research and interviews, seeks to upend the narrative on the late filmmaker, whose oeuvre definitely deserves a reappraisal."
— Yahoo!

"The author, Charles Elton, has ably sifted through the lies, evasions, busted budgets, broken friendships, damaged careers, and lurid press clips that the filmmaker left in his wake across his quarter century in Hollywood. The result is riveting..."

— AirMail

"Elton masterfully maneuvers through the web of lies surrounding Cimino, providing riveting details and fascinating interviews with key players...A must for film aficionados. Fans of Cimino's will be satisfied that he has been vindicated."

— Library Journal

"Charles Elton's Cimino is a riveting, sure-footed, cinema-savvy piece of biographical sleuthing. In his sprightly, sly approach, Elton manages to trap Cimino's reclusive, mercurial genius—a compelling dissection of both a volatile career and the business of show."
— John Lahr, author of Tennessee Williams: Mad Pilgrim of the Flesh and Joy Ride: Show People and Their Shows

"Whether you believe Michael Cimino represents an unfairly maligned genius or a monumental example of Hollywood hubris, Elton's Cimino is a compelling account of an elusive life."
— author of The Devil's Candy and Wendy and the Lost Boys

"What Charles Elton covers in this biography of Cimino reveals a much more complex figure — and might just leave you rethinking your preconceived notions of him."
— Tobias Carroll, Inside Hook "One of the 10 Best Books of 2022"

"Sprawling and granular, structured around on-the-record-testimonies about an artist who, as he got older, did his best to live a hidden, private life. … Indispensable."
— Adam Nayman, The Nation
Abrams Press, 9781419747113, 352pp.
Publication Date: March 29, 2022
About the Author
Charles Elton was a director of the Curtis Brown agency, representing film directors and screenwriters in London and Los Angeles. He was an independent TV producer before becoming an executive producer of drama at ITV in England, where he has been responsible for many award-winning shows. He is the author of two novels.