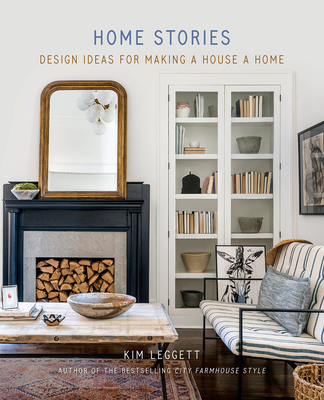 Home Stories
Design Ideas for Making a House a Home
Hardcover

* Individual store prices may vary.
Description
Learn how to create rooms filled with warmth, meaning, and your own unique story of home

Kim Leggett's first book, City Farmhouse Style, was a big hit. Now Kim is back with the welcoming interiors her fans crave and a no-rules approach that is all about using what you love to create rooms that tell your personal story.

Everyone has a story worth telling, and every room can become part of that story—whether you decorate it with heirlooms, flea market finds, simple mementos, or a mix. In Home Stories, Leggett shows readers how to use all these treasures to design very special rooms filled with interest and meaning.

She begins by asking readers what it is that attracts them to a certain piece: "Thinking hard about what really speaks to you, and then using it as the basis for design, is the secret behind all of the best, most interesting rooms."

Each chapter presents fascinating spaces and the stories behind the accessories, furnishings, and mementos that fill them. There are plenty of projects, too, plus practical design guidance and design inspiration for refreshing decor as the seasons change.

Praise For Home Stories: Design Ideas for Making a House a Home…
"Who doesn't love a good story? The things we love and cherish and the homes that hold our fondest affections generally earn a place in our hearts because of their story and how it intersects with our own. Kim beautifully highlights this truth and shows inspiring spaces, thoughtfully curated collections, and unique finds that give a home soul. In this book, she reveals the greatest decorating secret that can be achieved in any style and on any budget: a story."
— Marian Parsons

"I believe that stories are the sentimental and essential foundation of our lives. I believe that we each decorate and redecorate our homes as our stories are created. And no one tells—or helps each of us tell through her decorating acumen—more beautiful and cherished stories than Kim. She is a master storyteller, not only in words, but in all that surrounds her—and because of her, all that surrounds each of us."
— Jo Packham

"In a world full of Pinterest images where each space can look like the next, Kim reminds us to put heart and soul back into our homes! With her heart-warming stories and tips, anyone can be inspired to confidently create a home that tells its own unique story."
— Cynthia Harper
Abrams, 9781419747380, 224pp.
Publication Date: March 23, 2021
About the Author
Kim Leggett is an interior designer, retailer, and the founder of City Farmhouse, cityfarmhousefranklin.com.