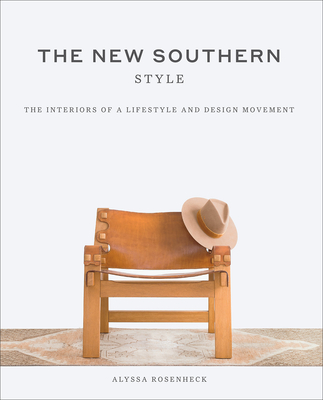 New Southern Style
The Inspiring Interiors of a Creative Movement
Hardcover

* Individual store prices may vary.
Praise For New Southern Style: The Inspiring Interiors of a Creative Movement…
"Alyssa Rosenheck's commitment to the strong creatives shaping today's South is as beautiful and inspiring as her photography."
— Lauren Liess
"The New Southern Style urges us beyond aesthetics to see a home for its depth of character and the heart that so vividly beats at its center."
— Sacha Strebe
"Alyssa Rosenheck and the Southern women in this book live to a rhythm that will warm your heart and then melt it."
— Lalah Delia
"Alyssa Rosenheck is a shining voice for the next generation of progressive creativity and diverse, female empowerment billowing in the South. She has taken on the steadfast responsibility of bringing a voice to the voiceless and turning messages into movements through her vision and lens."
— Julie Solomon
"Alyssa Rosenheck wants you to forget your preconceived notions of American Southern style. In this book, the photographer looks at modern day living in the South through interviews with a fascinating—and refreshingly diverse—array of designers, tastemakers, and makers, revealing the many styles that comprise beautiful living in the region (and, indeed, in the country as a whole)."
— House Beautiful
"The American South does have its own identity—complicated, rich, inspiring, ever-evolving. Rosenheck, a Nashville-based photographer and stylist, examines thirty notable homes throughout the region to assess how Southern culture both endures while reinventing itself. Here is a chance for the reader to be immersed in a culture all its own."
— Milieu
"Readers can expect to see Rosenheck's visually stunning imagery of people and interior spaces, but the photographer hopes the book will do more than inspire the four walls of their homes. She wants them to discover a deeper message behind the book, which she describes as being part of a movement she founded focused on community, creativity and connection."
— Nashville Lifestyles
"In her book, Rosenheck, a renowned interiors and architectural photographer, explores the American South and the ways in which people are using its traditions and culture to design new and innovative spaces."
— People
"Each page will encourage you to set aside the preconceived notions of Southern living, balancing beauty and substance with a hearty dose of design tips."
— Rue Magazine
"The New Southern ultimately is about community. It's anyone's story who has had to rely on humility and heart to make something from nothing. It's a progressive movement grounded in cultural change and unity and acceptance and love and creative prosperity in a region of the country that has had a really contentious, culpable past."
— StyleBlueprint
"Rosenheck ventures inside the private domains of 30 recognizable names---from regional tastemakers (Sean Anderson, Clea Shearer) to former Southerners (Gray Malin, Bobby Berk). Her style of photography perfectly illustrates the invitation she extends in the book's 320 pages "to live in the light."
— Luxe Interiors + Design
"In The New Southern Style, Alyssa's work comes together with more than just spaces and stories."
— Good Grit Magazine
Harry N. Abrams, 9781419747519, 320pp.
Publication Date: September 22, 2020
About the Author
Alyssa Rosenheck is Nashville-based photographer and stylist whom Southern Living magazine named one of 2017's Best New Tastemakers in the South. She's a regular contributor to numerous publications, including Architectural Digest, Elle Decor, Country Living, Better Homes and Gardens, Southern Living, Domino, and Apartment Therapy.