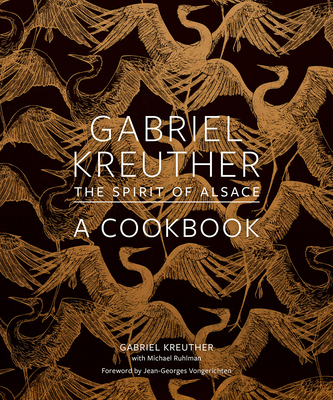 Gabriel Kreuther
The Spirit of Alsace, a Cookbook
Hardcover

* Individual store prices may vary.
Description
From award-winning chef Gabriel Kreuther, the definitive cookbook on rustic French cooking from Alsace

Gabriel Kreuther is the cookbook fans of the James Beard Award-winning chef have long been waiting for. From one of the most respected chefs in the United States, this cookbook showcases the recipes inspired by Kreuther's French-Swiss-German training and refined global style, one that embraces the spirits of both Alsace, his homeland, and of New York City, his adopted home. Sharing his restaurant creations and interpretations of traditional Alsatian dishes, Kreuther will teach the proper techniques for making every dish, whether simple or complex, a success. Recipes include everything from the chef's take on classic Alsatian food like the delicious Flammekueche (or Tarte Flambée) and hearty Baeckeoffe (a type of casserole stew) to modern dishes like the flavorful Roasted Button Mushroom Soup served with Toasted Chorizo Raviolis and the decadent Salmon Roe Beggar's Purse garnished with Gold Leaf.

Featuring personal stories from the chef's childhood in France and career in New York as well as stunning photography, Gabriel Kreuther is the definitive resource for Alsatian cooking worthy of fine dining.
Praise For Gabriel Kreuther: The Spirit of Alsace, a Cookbook…
"A masterpiece that beautifully captures the soul and traditions of Alsace.... This book elevates Gabriel Kreuther's craftsmanship to an art for approachable home entertainment."
— Daniel Boulud
"It's been a long time since I've held a book this beautiful. Gabriel Kreuther is a master of Alsatian cuisine and kindly shares recipes that made me jump into the kitchen and start cooking."
— Sean Brock
"Chef Kreuther is truly a master of his craft and has perfected the cuisine from one of the most incredibly beautiful regions of Europe. He is every chef's dream."
— Barbara Lynch
"Chef Gabriel Kreuther pays homage beautifully to Alsace through his love and passion for the region's rich culture and rustic gastronomy while demonstrating his talent as a refined fine-dining chef."
— Eric Ripert
"It's rare for a cookbook to truly capture my attention as an avid home cook. Oftentimes the recipes either land as remedial or are so complex they aren't truly meant to be duplicated at home, but Gabriel's book is the real deal! The recipes run the gamut from Alsatian comfort foods to the most complex of Gabriel's Michelin-starred favorites, all broken down in a way where real home cooks can actually make them sing. To top it off, the book is beautifully written and photographed, giving you not just kitchen challenges, but true insight into the heart and history of the man behind the dishes. A must for any foodie with a good set of knives."
— Hunter Arnold
"Gabriel Kreuther is able to express a nostalgic look at Alsatian cuisine while creating recipes that can be enjoyed today. It's a delicious and gorgeous sensory journey."
— Kyle Connaughton
"Gabriel uses his own deep nostalgia for Alsace in his cuisine in New York, so people can really enjoy the flavors of that region. You've got the German influence, the Swiss influence. It's a
fascinating
region. Bringing those flavors to New York in a modern way is amazing to me. I want to try everything in this book!"
— Jean-Georges Vongerichten
Abrams, 9781419747823, 368pp.
Publication Date: November 9, 2021
About the Author
James Beard Award winner Gabriel Kreuther is the executive chef of his eponymous restaurant, which opened in New York City in 2015. A recipient of two Michelin stars, Kreuther has garnered accolades from every major food critic and culinary media outlet. He's been inducted into Relais & Châteaux's restaurant association and is a member of the Bocuse d'Or Culinary Council. Kreuther has also served as the executive chef at The Modern in the MOMA and the Atelier at the Ritz Carlton.

Michael Ruhlman is the author of critically acclaimed books including Grocery (Abrams, 2017) and From Scratch (Abrams, 2019). He has collaborated on several bestselling restaurant cookbooks, including The French Laundry Cookbook, Bouchon, and Alinea.