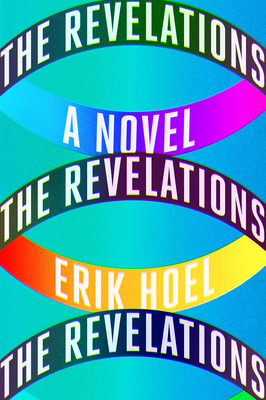 The Revelations
A Novel
Hardcover

* Individual store prices may vary.
Praise For The Revelations: A Novel…
"a dizzying, impressive debut…Fast and furious, this mind-stretching novel makes the grade."
— Publishers Weekly

"I have been writing and reading daily for decades, and I have never read anything like Erik Hoel's remarkable debut novel. . . . The Revelations is a deeply compelling, thought-provoking, and frankly, unforgettable work, one that heralds the arrival of an important new voice among us."
— Andre Dubus III

"Dense, literary, and hallucinogenic, The Revelations is an impassioned argument over beers and amphetamines. It will be stuck in my brain for some time to come."
— Peter Watts

"The Revelations is a fascinating invitation to link minds with a brilliant neuroscientist and take part in a daring literary thought experiment."
— Sophie Ward

"In this wild and lyrical debut, Erik Hoel merges the dark prescience of Mary Shelley's Frankenstein with the feverish writing of David Foster Wallace, creating a neon-colored cocktail of sci-fi, murder mystery, and love story that is wholly of the twenty-first century. I'll never think about the brain—or New York City!—the same way again."
— Kate Bolick

"Erik Hoel has crafted an audacious literary thriller. The Revelations is hilarious and deeply serious, heady and carnal and intellectual, all at once."
— Catherine Chung

"Sly and erudite, The Revelations grabs you by the res cogitans and plunges, with pulse-pounding suspense, into a shadowy hall-of-mirrors mystery—which turns out to be nothing less than the blooming, buzzing, sultry confusion of being young and alive in New York. A gripping meditation on consciousness, complexity, and narrative, The Revelations keeps reverberating long after you put it down."
— Roy Scranton

"The Revelations is a stunningly written, Escheresque novel, concerned with the great mysteries of our age. It left me smarter for having read it. Like discovering the theory of consciousness itself, it's a strange trip that's worth taking."
— Dana Czapnik
Harry N. Abrams, 9781419750229, 416pp.
Publication Date: April 6, 2021
About the Author
Erik Hoel received his PhD in neuroscience from the University of Wisconsin-Madison. He is a research assistant professor at Tufts University and was previously a postdoctoral researcher at Columbia University in the NeuroTechnology Center, and a visiting scholar at the Institute for Advanced Study in Princeton. Hoel is a 2018 Forbes "30 under 30" for his neuroscienti?c research on consciousness and a Center for Fiction Emerging Writer Fellow. The Revelations is his debut novel. He lives in Massachusetts.