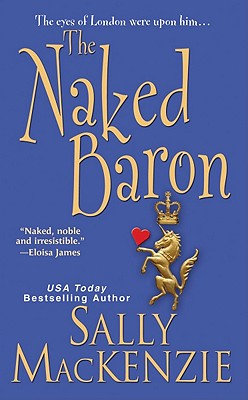 The Naked Baron (Mass Market Paperbound)
Zebra Books, 9781420102536, 344pp.
Publication Date: May 1, 2009
* Individual store prices may vary.
or
Not Currently Available for Direct Purchase
Description
Tell Me What You Want New to London society and rather. . .awkward. . .Lady Grace Belmont would just as soon hide behind the palm trees as dance with a man she doesn't know. But Baron Dawson is on the hunt for a wife. Grace's generous curves and remarkable height do not intimidate him. In fact, it would be more accurate to describe his reaction to the charming newcomer as lust. Before Grace can so much as gather her thoughts, she finds herself in his arms, committing one shocking impropriety after another. The Baron's devilish attractiveness--to say nothing of his splendid muscles--is simply impossible to resist. Her beloved aunt and chaperone advises patience, but Grace is not about to listen. The handsome baron is whispering such delightful things in her ear. . . Praise for the Novels of Sally MacKenzie "The romance equivalent of chocolate cake. . .every page is an irresistible delight " --Lisa Kleypas, New York Times bestselling author "Plenty of sexy sizzle and charming wit."--Booklist "Plenty of heat and hilarity."--Publishers Weekly
About the Author
A native of Washington, DC, Sally MacKenzie still lives in suburban Maryland with her transplanted upstate New Yorker husband. She's written federal regulations, school newsletters, auction programs, class plays, and swim league guidance, but it wasn't until the first of her four sons headed off to college that she tried her hand at romance. She can be reached by e-mail at sally@sallymackenzie.net or by snail mail at P.O. Box 10466, Rockville, MD, 20849. Please visit her home in cyberspace at www.sallymackenzie.net.
Advertisement