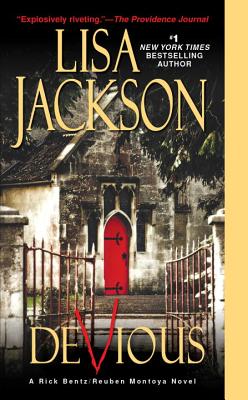 Devious (Mass Market Paperbound)
Zebra Books, 9781420102758, 540pp.
Publication Date: March 1, 2012
Description
"Terrifying. . .A Creepy Thriller." Publishers Weekly
When New Orleans detective Reuben Montoya is called to investigate a murder with his partner Rick Bentz, he's shocked to recognize the victim. Camille Renard, an old high-school friend, was found on the altar of St. Marguerite's cathedral, dressed in a yellowed bridal gown and viciously garroted. . .
"Will Satisfy Series Fans As Well As Readers Who Enjoy Lisa Gardner And Linda Fairstein." Library Journal
Valerie Houston's younger sister, Camille, had a knack for making bad choices. She left Texas after falling for Val's soon-to-be ex-husband, Slade. But as Val digs deeper into Camille's death, she realizes how little she really knows about her sister and their shared past.
"A Nail-Biting Tale Of Dangerous Secrets And Deadly Passions." --Booklist
Soon more bodies are found brutally slaughtered. No one is beyond suspicion. No one is safe--least of all Valerie, whose connection to a twisted case is closer, and more dangerous, than she ever could have imagined. For this killer knows all, forgives nothing, and will not rest until Valerie becomes the next to pay for her sins. . .
"The plot machinations are wonderful and emotional turmoil akin to the work of James Lee Burke and Tony Hillerman helps make Devious a stunning success." The Providence Journal
"Explosively riveting." The Providence Journal
About the Author
LISA JACKSON is the #1 New York Times bestselling author of over ninety-five novels, including You Will Pay, After She s Gone, Deserves to Die, You Don t Want to Know, Running Scared, and Shiver. She is also the co-author of the Colony Series, written with her sister and bestselling author Nancy Bush, as well as the collaborative novels Sinister and Ominous, written with Nancy Bush and Rosalind Noonan. There are over thirty million copies of her novels in print and her writing has been translated into nineteen languages. She lives with her family and three rambunctious dogs in the Pacific Northwest. Readers can visit her website at www.lisajackson.com and find her on Facebook."
Advertisement