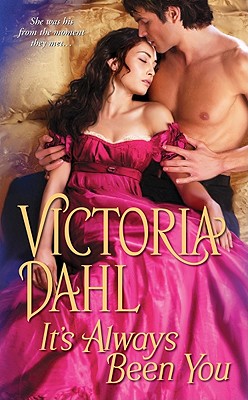 It's Always Been You (The York Family #2) (Paperback)
Zebra, 9781420104844, 352pp.
Publication Date: August 1, 2011
* Individual store prices may vary.
Description
Once She Slipped Through His Fingers. . .

Aidan York has spent ten years mourning the woman he once loved and lost. He's filled the void in the only way he knows-by distracting himself with wild behavior and scandalous trysts. It's a hollow existence, but it dulls the pain. Until the day he encounters a ghost: the woman he thought drowned at sea, alive and as enchanting as ever. . .

Now He'll Keep Her In His Arms. . .

When Kate Hamilton sees the man she once hoped to spend her life with, she is hit with a storm of memories and longing. But though resisting Aidan's passion proves impossible, Kate must try not to love him all over again. For her seemingly quiet London life shields a dangerous secret, one that will catch up to her the moment she lets herself fall. . .

Praise for A Little Bit Wild

"The classic Beauty and the Beast tale is twisted into something new. . . funny and unlike the others." –Publishers Weekly

"A sharp and sassy romance, with a unique blend of an original, quick story and romantic characters." --RT Book Reviews
About the Author
USA Today bestselling author Victoria Dahl started reading romances at an inappropriately young age and hasn't stopped since. Fortunately, all those years of reading helped her recognize her Prince Charming when he arrived, and she now lives in the mountains with her husband and two children. During the summer, she hikes with her family. During the winter, she likes to curl up with a book and a cup of hot cocoa and think about all those poor, cold skiers out in the snow. Victoria loves to hear from readers! Please write to her at Victoria@VictoriaDahl.com. For more information about her books, visit VictoriaDahl.com.