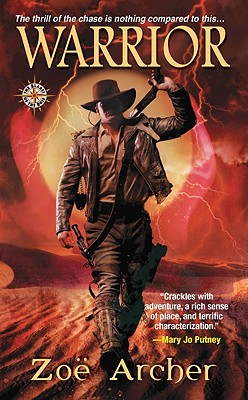 Warrior
Mass Market Paperbound

* Individual store prices may vary.
Description
To most people, the realm of magic is the stuff of nursery rhymes and dusty libraries. But for Capt. Gabriel Huntley, it's become quite real and quite dangerous. . .
In Hot Pursuit. . .
The vicious attack Capt. Gabriel Huntley witnesses in a dark alley sparks a chain of events that will take him to the ends of the Earth and beyond--where what is real and what is imagined become terribly confused. And frankly, Huntley couldn't be more pleased. Intrigue, danger, and a beautiful woman in distress--just what he needs.
In Hotter Water. . .
Raised thousands of miles from England, Thalia Burgess is no typical Victorian lady. A good thing, because a proper lady would have no hope of recovering the priceless magical artifact Thalia is after. Huntley's assistance might come in handy, though she has to keep him in the dark. But this distractingly handsome soldier isn't easy to deceive. . .
"Zoe weaves a delightful spell. . .cleverly blending history and magic in new, delightful ways. . ." --Elizabeth Vaughan, "USA Today" bestselling author
"An innovative and exciting romantic adventure with just the right touch of the paranormal. . ." --Jennifer Ashley, "USA Today" bestselling author
"Crackles with adventure, a rich sense of place, and terrific characterization." --Mary Jo Putney.
Zebra Books, 9781420106794, 374pp.
Publication Date: September 1, 2010