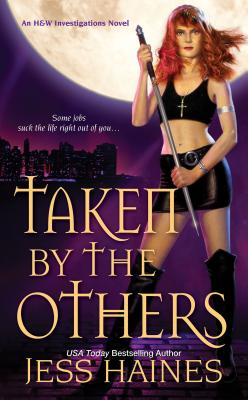 Taken by the Others
Mass Market Paperbound

* Individual store prices may vary.
Description
Jess Haines draws readers deep into the mesmerizing world of the Others--werewolves, vampires, and mages who make their home among humans, and are turning Shiarra Waynest's life upside down. . .

Once, New York P.I. Shiarra Waynest's most pressing problem was keeping her agency afloat. Now she's dealing with two dangerous, seductive vampires who have been enemies for centuries. The only thing Max Carlyle and Alec Royce agree on is that they both want Shia--for very different reasons.

Max is determined to destroy Shia for killing his progeny, while Royce's interest is a lot more personal. That's not sitting well with Shia's werewolf boyfriend, Chaz. As the feud between Max and Royce gets ever more deadly, a powerful vampire-hunting faction is urging Shia to join their side. Shia has always believed vamps were the bad guys, but she's discovering unexpected shades of grey that are about to redefine her friends, her loyalties--and even her desires. . .
Praise for Hunted by the Others
"Jess Haines is a talent to watch "
--Lara Adrian, "New York Times" bestselling author
"A fun, high octane ride with a take charge heroine who will leave you wanting more."
--Alexandra Ivy, "New York Times" bestselling author
"A delightful romp of a book. Jess Haines just became my autobuy "
--Angela Knight, "New York Times" bestselling author.
Zebra Books, 9781420111880, 345pp.
Publication Date: January 1, 2011