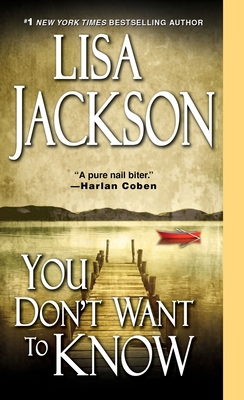 You Don't Want to Know (Mass Market Paperbound)
Zebra, 9781420118537, 560pp.
Publication Date: February 26, 2013
Description
Chilling Multiple red herrings and a host of sinister characters help keep the pages turning. Publishers Weekly

Life as Ava Garrison knew it ended the day her toddler son Noah went missing. In the two years since, she's been in and out of Seattle mental institutions, existing in a fog of grief. Noah's body was never found, and everyone assumed he drowned after falling off a dock. Until recently, Ava thought so too
Shiveringly good suspense Lisa Gardner

Since she moved back home, Ava has experienced unsettling visions. She hears Noah crying in the nursery, glimpses him walking near the water. Her family, her psychologist, and her estranged husband are concerned for her well-being. Or are they worried about what she might discover?
Crammed with suspects and a palpable air of creepiness Jackson's many fans will enjoy it. Kirkus Reviews

Did Noah really die, or is Ava losing her sanity? The deeper into her memories she goes, the more fearful she becomes. Ava thought her son's disappearance was the worst thing that could happen to her. But before this nightmare ends, she ll discover how terrifying the truth can be
About the Author
LISA JACKSON is the #1 New York Times bestselling author of over ninety-five novels, including You Will Pay, After She s Gone, Deserves to Die, You Don t Want to Know, Running Scared, and Shiver. She is also the co-author of the Colony Series, written with her sister and bestselling author Nancy Bush, as well as the collaborative novels Sinister and Ominous, written with Nancy Bush and Rosalind Noonan. There are over thirty million copies of her novels in print and her writing has been translated into nineteen languages. She lives with her family and three rambunctious dogs in the Pacific Northwest. Readers can visit her website at www.lisajackson.com and find her on Facebook."
Advertisement