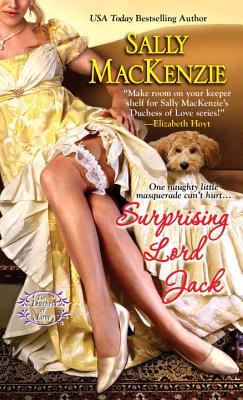 Surprising Lord Jack (Mass Market Paperbound)
Zebra, 9781420123227, 343pp.
Publication Date: March 5, 2013
* Individual store prices may vary.
or
Not Currently Available for Direct Purchase
Description
Unladylike Behavior Frances Hadley has managed her family's estate for years. So why can't she request her own dowry? She'll have to go to London herself and knock some sense into the men interfering in her life. With the nonsense she's dealt with lately, though, there's no way she's going as a woman. A pair of breeches and a quick chop of her red curls, and she'll have much less to worry about. . . Jack Valentine, third son of the famous Duchess of Love, is through being pursued by pushy young ladies. One particularly determined miss has run him out of his own house party. Luckily the inn has one bed left--Jack just has to share with a rather entertaining red-headed youth. Perhaps the two of them should ride to London together. It will make a pleasant escape from his mother's matchmaking melodrama "Make room on your keeper shelf for Sally MacKenzie's Duchess of Love series " --Elizabeth Hoyt, New York Times bestselling author Praise for Bedding Lord Ned "An engaging tale that balances greed, jealousy, and malice with humor and sweetness. . .readers will cheer." --Publishers Weekly, STARRED REVIEW "MacKenzie blends a touch of poignancy with just the right amount of humor into this delightful love story." --RT Book Reviews, 4 Stars.
About the Author
A native of Washington, DC, Sally MacKenzie still lives in suburban Maryland with her transplanted upstate New Yorker husband. She's written federal regulations, school newsletters, auction programs, class plays, and swim league guidance, but it wasn't until the first of her four sons headed off to college that she tried her hand at romance. She can be reached by e-mail at sally@sallymackenzie.net or by snail mail at P.O. Box 10466, Rockville, MD, 20849. Please visit her home in cyberspace at www.sallymackenzie.net.
Advertisement