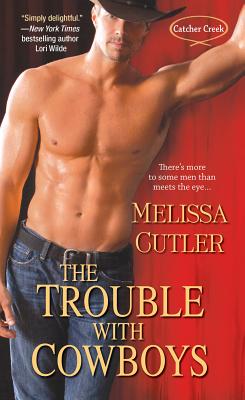 The Trouble With Cowboys (Catcher Creek #1) (Mass Market)
Zebra, 9781420130041, 320pp.
Publication Date: October 2, 2012
* Individual store prices may vary.
Description
It was their parents' ranch, through the good days and the bad. But if they want to hang on to their land, their pride, and their family, the three Sorentino sisters will have to reinvent it from the ground up--and one of them just may reinvent herself in the process. . .

Cowboys have never been good for Amy Sorentino. First her hard-riding father bankrupted the family farm. Then her all-hat-no-cattle boyfriend sold her out on national television, ending her promising career as a chef. Now she and her squabbling sisters have partnered up in a final attempt to save their land by starting an inn and local restaurant. So it figures that with everything on the line, Amy's key supplier is just the kind of Stetson-tipping heartbreaking bad boy she's sworn to avoid. But Kellan Reed has a few secrets of his own--and cowboy or not, Amy can't resist this kind of wild ride. . .

"One hot romance from start to finish." --Carolyn Brown, New York Times bestselling author of Mistletoe Cowboy

"Simply delightful."--New York Times bestselling author Lori Wilde
About the Author
Melissa Cutler is a Southern California native living in beautiful San Diego with her husband, two children, and a nervous Siamese cat. She spent her teenage years on the floor of her local bookstore's romance aisle, making tough choices about which novels to buy with the measly paycheck from her filing clerk job. Her love for happily-ever-after stories continued into adulthood, and in 2008, she decided to take her romance novel devotion to the next level by penning one herself. She now divides her time between her dual passions for writing sexy cowboy contemporaries and edge-of-your-seat romantic suspense.
or
Not Currently Available for Direct Purchase