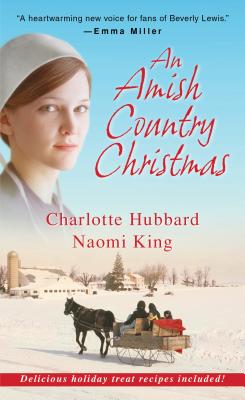 An Amish Country Christmas (Mass Market)
Zebra, 9781420131888, 352pp.
Publication Date: October 1, 2013
* Individual store prices may vary.
Description
In Willow Ridge, Missouri, the Christmas season is a time when faith brings peace, family brings warmth and new romance brings sparkling joy. . .

Twins For Christmas

For spirited Martha Coblentz and her twin Mary, the snow has delivered the perfect holiday and birthday present to their door--handsome brothers Nate and Bram Kanagy. But when unforeseen trouble interrupts their season's good cheer, it will take unexpected intervention--and sudden understanding--to give all four the blessing of a lifetime. . .

Kissing The Bishop

As the year's first snow settles, Nazareth Hooley and her sister are given a heaven-sent chance to help newly widowed Tom Hostetler tend his home. But when her hope that she and Tom can build on the caring between them seems a dream forever out of reach, Nazareth discovers that faith and love can make any miracle possible. . .

"A heartwarming new voice for fans of Beverly Lewis." --Emma Miller

Delicious holiday treat recipes included!

Praise for The Seasons of the Heart series

"Another great book centered around the Sweet Seasons Café." --RT Book Reviews, 4 Stars

Praise for Naomi King

"A heartwarming story, beautifully told."--JoAnn Grote, author of "Image of Love"
About the Author
Drawing upon her experiences in Jamesport, the largest Old Order Amish community west of the Mississippi, longtime Missourian Charlotte Hubbard writes of simpler times and a faith-based lifestyle. Charlotte considers it her personal mission to feed people—to share hearth and home. Faith and family, farming and food preservation are hallmarks of her lifestyle—and the foundation of all her Amish romance series. She's a deacon, a dedicated church musician, and a choir member. When she's not writing, she loves to try new recipes, crochet, and sew. Charlotte now lives in Minnesota with her husband and their border collie.

Like her series heroine, Abby Lambright, Naomi King considers it her personal mission to be a listener—to heal broken hearts and wounded souls—and to share her hearth and home. Like Abby, she made her wedding dress and the one her mom wore, too! She's a deacon, a dedicated church musician and choir member, and when she's not writing, she loves to travel, try new recipes, crochet, and sew.