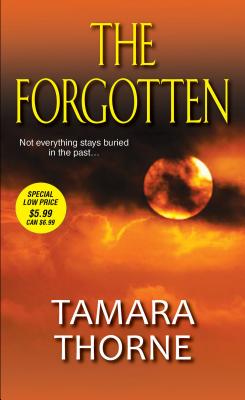 The Forgotten
Paperback

* Individual store prices may vary.
Description
Reprinted Edition

The Past. . .



Will Banning survived a childhood so rough, his mind has blocked it out almost entirely--especially the horrific day his brother Michael died, a memory that flickers on the edge of his consciousness as if from a dream.

Isn't Gone. . .

Now, as a successful psychologist, Will helps others dispel the fears the past can conjure. But he has no explanation for the increasingly bizarre paranoia affecting the inhabitants of Caledonia, California, many of whom claim to see terrifying visions and hear ominous voices. . .voices that tell them to do unspeakable things. . ..

It's Deadly

As madness and murderous impulses grip the coastal town, Will is compelled to confront his greatest fear and unlock the terrifying secret of his own past in a place where evil isn't just a memory. . .it's alive and waiting to strike. . .

Praise for the supernatural thrillers of Tamara Thorne

"A tapestry of chills and scares that will be remembered long after the lights have gone out." --Douglas Clegg

"Tamara Thorne has an uncanny knack for combining the outrageous with the shuddery, making for wonderful, scary romps and fun reading." --Chelsea Quinn Yarbro
Zebra, 9781420132540, 384pp.
Publication Date: September 3, 2013
About the Author
Tamara Thorne has been a horror novelist for more than two decades, and has always loved a good ghost story. She is the author of Haunted, Moonfall, Candle Bay, The Sorority, Bad Things, The Forgotten, and Eternity, among others. She lives in California, where many of her horror stories take place. Visit her online at tamarathorne.wordpress.com.
or
Not Currently Available for Direct Purchase