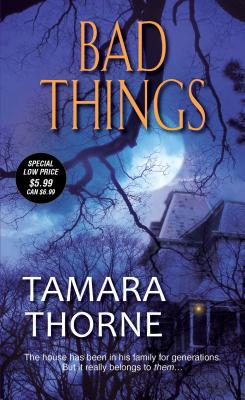 Bad Things
Mass Market Paperbound

* Individual store prices may vary.
Description
Reprinted Edition The Piper clan emigrated from Scotland and founded the town of Santo Verde, California. The Gothic Victorian estate built there has housed the family for generations, and has also become home to an ancient evil forever linked to the Piper name. . . As a boy, Rick Piper discovered he had "the sight." It was supposed to be a family myth, but Rick could see the greenjacks--the tiny mischievous demons who taunted him throughout his childhood--and who stole the soul of his twin brother Robin one Halloween night. Now a widower with two children of his own, Rick has returned home to build a new life. He wants to believe the greenjacks don't exist, that they were a figment of his own childish fears and the vicious torment he suffered at the hands of his brother. But he can still see and hear them, and they haven't forgotten that Rick escaped them so long ago. And this time, they don't just want Rick. This time they want his children. . .
Zebra Books, 9781420132564, 427pp.
Publication Date: September 3, 2013
About the Author
Tamara Thorne has been a horror novelist for more than two decades, and has always loved a good ghost story. She is the author of Haunted, Moonfall, Candle Bay, The Sorority, Bad Things, The Forgotten, and Eternity, among others. She lives in California, where many of her horror stories take place. Visit her online at tamarathorne.wordpress.com.
or
Not Currently Available for Direct Purchase