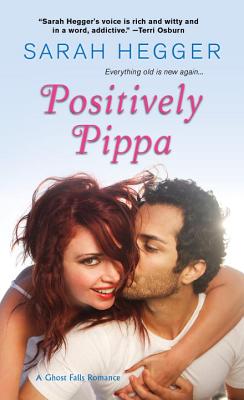 Positively Pippa (The Ghost Falls Series #1)
Mass Market

* Individual store prices may vary.
Description
"Sarah Hegger's voice is rich and witty and in a word, addictive." --Terri Osburn

From author Sarah Hegger comes an exciting new series set in small-town Utah, where secrets don't keep for long—and love turns up in the most unexpected places.

For Pippa Turner there's only one place to go when her life self-destructs on national TV—home to Ghost Falls, and her heavily perfumed, overly dramatic, but supremely loving grandmother, Philomene. If anyone will understand how Pippa's hit makeover show was sabotaged by her vengeful ex, it's Phi. But she's not the only one who's happy to see her—and Pippa can't help but wonder if Matt Evans, her gorgeous high-school crush turned Phi's contractor, is game for a steamy close-up…

Matt owes his whole career to Phi and her constant demands to embellish the gothically ridiculous house he built for her. Getting to see red-headed, red-hot Pippa is a bonus, especially now that she's no longer the troublesome teenager he remembers. He's willing to stay behind the scenes while she gives her own life a much-needed makeover, but not forever. As far as he's concerned, their connection is too electric to ignore. And the chance to build something lasting between them—before she can high-tail it back to Hollywood—is going to the top of his to-do list…

Praise for Sarah Hegger and her Willow Park Romance series

"Hegger offers a breath of fresh air in the romance genre." --RT Book Reviews

"Hegger's characters have real chemistry, especially in the bedroom." --Publishers Weekly
Praise For Positively Pippa (The Ghost Falls Series #1)…
"This first book in the Ghost Falls series has a bit of everything—mystery, sex, love, family drama—and it's all exceptionally well-done… This is the type of romance that makes readers fall in love not just with characters, but with authors as well."– Kirkus Reviews STARRED REVIEW

"Hegger's unflinching, candid portrayal of interpersonal and generational communication elevates the story to the sublime…She uses realistic, relatable situations to create a world that readers will want to visit time and again." - Publishers Weekly STARRED REVIEW

"The very talented Hegger kicks off an enjoyable new series set in the small Utah town of Ghost Falls. This charming and fun-filled book has everything from passion and humor to betrayal and revenge. It is also a warm look into small-town life with all its loving quirks, and proves sometimes you can go home again. The warmth and depth of Hegger's characters makes this a story you won't soon forget. Truly wonderful!"– RT Book Reviews, 4.5 Stars Top Pick
Zebra, 9781420142433, 368pp.
Publication Date: May 30, 2017
About the Author
Born British and raised in South Africa, Sarah Hegger suffers from an incurable case of wanderlust. Her match? A Canadian engineer, whose marriage proposal she accepted six short weeks after they first met. Together they've made homes in seven different cities across three different continents (and back again once or twice). If only it made her multilingual, but the best she can manage is idiosyncratic English, fluent Afrikaans, conversant Russian, pigeon Portuguese, even worse Zulu and enough French to get herself into trouble. Mimicking her globetrotting adventures, Sarah's career path began as a gainfully employed actress, drifted into public relations, settled a moment in advertising, and eventually took root in the fertile soil of her first love, writing. She also moonlights as a wife and mother. She currently lives in Colorado with her teenage daughters, two Golden Retrievers and aforementioned husband. Part footloose buccaneer, part quixotic observer of life, Sarah's restless heart is most content when reading or writing books. www.SarahHegger.com.
or
Not Currently Available for Direct Purchase