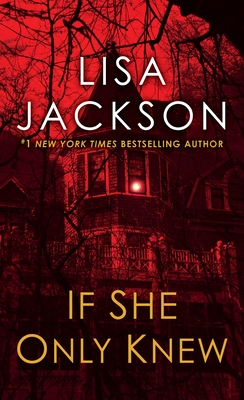 If She Only Knew (Mass Market Paperbound)
Zebra, 9781420142594, 488pp.
Publication Date: November 29, 2016
Description
What if you were a stranger, even to yourself? In this riveting novel of suspense, bestselling author Lisa Jackson keeps readers guessing through every twist and turn when a shocking accident leaves one woman wondering who she is, what she has done--and why she could be the next to die...

It begins on a dark stretch of highway in northern California. Caught in a blinding glare of headlights, two vehicles swerve and crash--leaving one woman dead, and another in a coma. When the surviving woman awakens, her memory is gone and her face has been reconstructed. Her family tells her that her name is Marla Cahill--but they're all strangers to her.
Recuperating in her isolated San Francisco mansion, Marla waits for something to trigger recognition. Yet the only thing she's left with is the unshakable feeling that she is not who everyone says she is, and that something is very, very wrong. Marla knows her life isn't just different--it's in danger. And as her fear builds, a killer waits for the perfect moment to strike--the moment Marla remembers...
Praise for Lisa Jackson's After She's Gone

-Near-constant suspense.- --Booklist
-A well-crafted story full of suspense that will keep readers on the edge of their seats.- --RT Book Reviews
About the Author
LISA JACKSON is the #1 New York Times bestselling author of over ninety-five novels, including You Will Pay, After She's Gone, Deserves to Die, You Don't Want to Know, Running Scared, and Shiver. She is also the co-author of the Colony Series, written with her sister and bestselling author Nancy Bush, as well as the collaborative novels Sinister and Ominous, written with Nancy Bush and Rosalind Noonan. There are over thirty million copies of her novels in print and her writing has been translated into nineteen languages. She lives with her family and three rambunctious dogs in the Pacific Northwest. Readers can visit her website at www.lisajackson.com and find her on Facebook.
Advertisement