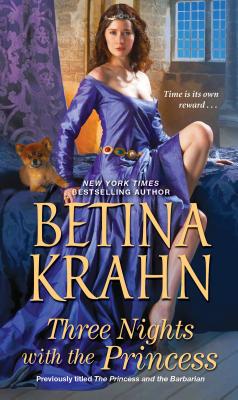 Three Nights with the Princess (Mass Market)
Zebra, 9781420143546, 400pp.
Publication Date: September 25, 2018
* Individual store prices may vary.
Description
From New York Times bestselling author Betina Krahn comes a tale of passion, adventure, and a most regal romance . . .
 
Fiercely independent, and wholly devoted to her subjects, Crown Princess Thera of Mercia must marry before she can become Queen. But the beauty's reluctance to choose a husband has plunged her into peril far from home—and into the arms of a handsome rescuer.
 
Powerful, hot-blooded mercenary Saxxe Rouen has better things to do than fight a crowd of drunken brutes. After all, there is little profit in saving a demoiselle in distress—or is there? His valor should be repaid, if not in silver, then in another kind of reward: Lovely, fiery Thera will spend one night in his bed. 
 
Once safe, Thera didn't expect to face yet another danger—her attraction to the beguilingly charming warrior. But as a battle of wits ensues, one night may lead to three. And a proud princess may discover the pleasure of surrendering her heart—while Saxxe may find the kingdom, and the love, he was truly meant to win . . .

Previously titled The Princess and the Barbarian
 
Praise for Betina Krahn's previous novels
 
"Daisy's free spirit is contagious. . . . Krahn returns to historical romance with a barn burner of a love story." —Kirkus Reviews
 
"Krahn has a delightful, smart touch." —Publishers Weekly
"Smart, romantic . . . sure to delight readers."  —Milwaukee Journal Sentinel
 
"Betina Krahn is a treasure." —BookPage
About the Author
Betina Krahn is a New York Times bestselling author of more than 30 historical and contemporary romances. Her works have won numerous industry awards, including the Romantic Times Lifetime Achievement Award for Love and Laughter. Visit her on the web at www.betinakrahn.com.
Praise For Three Nights with the Princess…
Praise for Betina Krahn's The Girl with the Sweetest Secret:

"VERDICT A fearless, irrepressible heroine and a hero who matches her every move meet in a complex, richly plotted story, adding another sparkler to Krahn's engaging series." --Library Journal

"In her latest historical tale, Krahn once again strikes the perfect balance between sharp wit and sexy romance." – Booklist

"Reynard and Frankie are a perfect match in wit and strength….Readers will enjoy watching all three of the book's couple's race to the finish line." --Publishers Weekly

Praise for Betina Krahn's A Good Day to Marry a Duke:
 
"The very essence of romance . . . endlessly entertaining." --Booklist (Starred Review)
 
"Readers will gallop through the lighthearted love story." --Kirkus Reviews
 
"Full of wit, deceit, manipulation, and a thoroughly entertaining mix of American and English cultural references, this amusing romance has set the bar high for the sequels."  --Publishers Weekly


Praise for the previous works of Betina Krahn:
  
 "A delectable romance most readers will find impossible to resist." —Booklist (starred review)  
 
 "An utterly charming treat . . . a heroine to admire and love and a meltingly desirable hero. . . . Nothing could be better about this book." —RT Book Reviews Top Pick 
 
"The contemporary sexual feel of the writing . . . worked seamlessly into the historical setting." —Smart Bitches, Trashy Books
 
"Rip roaring romantic escapade is a breath of fresh air in historical reading." —Fresh Fiction      
 
"Witty, rollicking romance. . . a bright, exciting adventure." —Publisher's Weekly 
 
 "Krahn has outdone herself in this funny, sexy medieval romance . . . will keep readers smiling—and hungry—until the end." —Library Journal  
                                 
"A captivating tale of action, adventure and passion that is wickedly fun." —Chicago Tribune