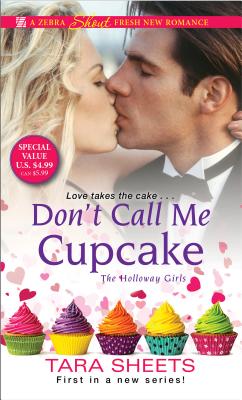 Don't Call Me Cupcake (The Holloway Girls #1) (Mass Market)
Zebra Shout, 9781420146264, 304pp.
Publication Date: April 24, 2018
* Individual store prices may vary.
Description
"I loved this book! Beautifully written and the story has stayed with me."
—Jude Deveraux
 
Most families have a favorite recipe or two, handed down through generations. The Holloway women are a little different. Emma Holloway, like her grandmother before her, bakes wishes into her delicious cupcakes, granting the recipient comfort, sweet dreams, or any number of good things. It's a strange gift, but it brings only happiness. Until gorgeous, smooth-talking newcomer Hunter Kane strolls into her shop, Fairy Cakes—and Emma makes the mistake of selling him not one, but three Sweet Success cupcakes.
 
Hunter, it turns out, is opening a fancy new restaurant and bakery right on the waterfront—Emma's competition. To make matters worse, the town committee has decided to split the upcoming summer festival contract between the two, forcing Emma to work with her nemesis. But she can't afford to split her profits. The solution: create a recipe that will make Hunter leave town permanently.
 
The Holloway charms are powerful. But there are other kinds of magic in the world—like red-hot first kisses, secret glances, and the feeling that comes with falling truly, madly, inconveniently
in love . . .
About the Author
Award‑winning author Tara Sheets is a lover of fairytales and a staunch believer in happily ever after.  She enjoys writing women's fiction and lighthearted romance with a splash of magic.  Tara holds a BA in Communications and is a graduate of the University of Washington's Popular Fiction Writing Program.  Her debut novel, Don't Call Me Cupcake, won the 2016 Golden Heart® sponsored by Romance Writers of America. Tara now lives in North Carolina with her book‑loving family and a book‑eating dog named Merlin. Please visit her at www.tarasheets.com or on Twitter @Tara_Sheets.
Praise For Don't Call Me Cupcake (The Holloway Girls #1)…
Praise for Don't Call Me Cupcake:

"I loved this book!  Beautifully written and the story has stayed with me." --Jude Deveraux

"The first in Sheets' new Holloway Girls series is funny, sexy, charming and full of practical magic. The storyline is refreshingly unique and the dialogue is light and low-key and fits really well with the sleepy island town setting and the quirky busybody residents. Seeing the couple try to ignore their intense attraction to each other is a hoot and Emma's potion conjuring is laugh-out-loud funny. But it is the dilapidated enchanted house that steals the show. Fans of Sarah Addison Allen will love this novel."-- RT Book Reviews