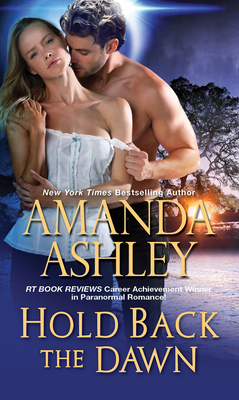 Hold Back the Dawn (Mass Market)
Zebra, 9781420147391, 336pp.
Publication Date: August 27, 2019
* Individual store prices may vary.
Description
"A master of her craft." —Maggie Shayne  

London's diversions hold no charm for Roan Cabrera. Despite his reputation as a scoundrel, he's in high demand among the city's most eligible young women. And though their blood can quench his undying thirst, none of them can fill the emptiness in his centuries-old soul. He finds solace only in easing the pain of those near death—by helping them relive their most cherished memories …
 
The last thing Kathryn Winterbourne remembers is being struck by a carriage. When she awakens in a luxurious bed, she feels like she must have died and gone to heaven. But the man who has saved her is no angel. With his penetrating eyes, the darkly handsome Roan looks more like the devil himself. And when Kathryn is confronted with the truth about her mysterious hero, she'll have to decide whether to shutter her heart against him—or give in to the thrill of his love …
 
Praise for Amanda Ashley and Twilight Dreams

"A tender paranormal romance exploring love and family ties, and it's tinged with intrigue and vengeance. . . . This portrait of new love is sweet and endearing."
—Publishers Weekly
 
"Author Ashley is no stranger to paranormal romance … Intriguing."
—Kirkus Reviews
 
"Master storyteller Amanda Ashley weaves a classic vampire tale of sensual, spine tingling suspense."
—Christine Feehan    
About the Author
Amanda Ashley is one of those rare birds—a California native. She's lived in Southern California her whole life and, except for the earthquakes, she loves it. She shares a home with her husband, as well as an adorable Pomeranian named Lady, a wild house sparrow named Tweety, and a tortoise who remains nameless. Amanda and her alter ego, Madeline, have written 60 books. Not bad for someone who started writing just for the fun of it. Her books have made the New York Times and USA Today bestseller lists. You can get a sneak peek at her next book on her website www.AmandaAshley.com.