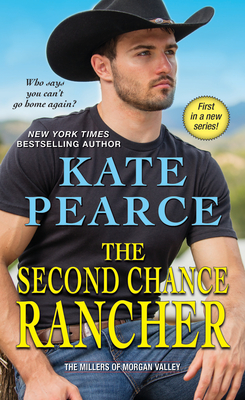 The Second Chance Rancher (The Millers of Morgan Valley #1) (Mass Market)
Zebra, 9781420148237, 320pp.
Publication Date: May 28, 2019
* Individual store prices may vary.
Description
It might be the pride of hard work on rugged terrain, the welcoming community, or the memories—but wherever the folks of Morgantown may roam, they have a way of coming back to the ranch . . .
 
There's a reason Jackson Lymond left the Air Force, but he's not telling a soul. He'd rather keep things simple, while trying to start a new life helping his older brother on their northern California ranch. At least Morgantown's flirty local bartender can keep his mind off the past—that is, until he runs into Daisy Miller . . .
 
Daisy doesn't really expect Jackson to remember her. Back in school she did her best to blend in—and pretend she didn't have five brothers who'd hogtie any boy who even looked at her. These days though, she and Jackson might have more in common than just their ranching relatives. After all, they both left home only to return. Trouble is, under the watch of her fiercely protective family, Daisy is longing for some privacy. Letting Jackson into her life could make that even more difficult—or it might be the second chance they're both looking for . . .
 
 
Praise for Kate Pearce's The Bad Boy Cowboy

"HW and Samantha are unique and memorable, and this is the strongest story yet in Pearce's
excellent series."
—Booklist
About the Author
New York Times and USA Today bestselling author Kate Pearce was born in England in the middle of a large family of girls and quickly found that her imagination was far more interesting than real life. After acquiring a degree in history and barely escaping from the British Civil Service alive, she moved to California and then to Hawaii with her kids and her husband and set about reinventing herself as a romance writer.
 
She writes for Kensington, Penguin Random House UK Rouge Romance, Carina and Cleis Press and is known for both her unconventional heroes and her joy at subverting romance cliches. In her spare time she self publishes science fiction erotic romance, historical romance and whatever else she can imagine.  
You can find Kate at her website at www.katepearce.com, on Facebook as Kate Pearce, and on Twitter @Kate4queen.