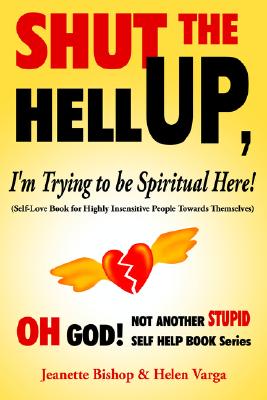 Shut the Hell Up, I'm Trying to Be Spiritual Here! (Self-Love Book for Highly Insensitive People Towards Themselves) (Paperback)
Authorhouse, 9781420870824, 92pp.
Publication Date: November 1, 2005
* Individual store prices may vary.
or
Not Currently Available for Direct Purchase
Description
Fed up with living life as an opinion of someone else? Through out this book, the reader will discover themselves or at least what or who they aren't. No point in having spiritual answers if we can't stand ourselves, as we layer most things into our guilt and shame cycle which we seem to like so much. Self-hatred is evident in many of us, from overeating to starvation, from seeking and never finding that true love, leaving a trail of broken lives, our own included, shows us we are really seeking ourselves. Never really knowing why that would be, we ventured into the heart of the matter, literally; self-love. Where is it, what is it, how come we don't have it? Sharing our experiences albeit vastly different, the results were the same, self-loathing - which has many faces and masks. Traveling back in time to our childhoods, searching for our unconditional love and never finding it, lead us to the question, WHY? We are all a product of our environments, however, by questioning and digging, we found our love for ourselves was squelched and squeezed out of our minds, our bodies and our memories. That was until we reached back in to our hearts and grabbed it right back The book is about helping you dig into your lives and seek out the true you Wouldn't you rather be true to you, in a loving way with healthy boundaries, rather than having to fight and defend your way to loving yourself.

Advertisement