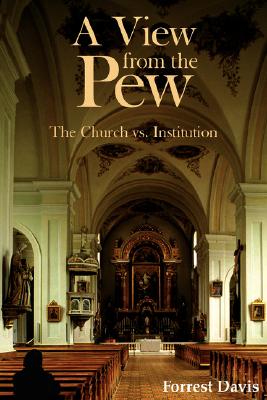 A View from the Pew
The Church vs. Institution
Paperback

* Individual store prices may vary.
Other Editions of This Title:
Hardcover (1/10/2008)
Description
There surely must be a thesis out there that deals with the distinguishing differences that often exist between the Church and its attached Institutions, but I haven't found it. I am attempting to do just that, because I have come to believe that the Church and its accompanying institution are obviously not always the same. Any such critique is probably not wanted by most individual church organizations, particularly as it identifies the institution as sometimes being separate and apart from the church. It would be a challenge to the institutions' historic use of power as well as their livelihood. It would also challenge much of the church's formalized history. Existing institutions, having very different doctrines, each claim to be the anointed leadership of Gods Church. They each independently assume the role of God's official representative and spokesman, although the only thing they may have in common is collection of the tithe. It obviously follows that some institutions represent biblical Christianity and some do not. Even so, they operate identical to other professional organizations that refuse to censor their individual associates, even though that associate may blatantly misrepresent the spirit and integrity of the organization as a whole. One will find every political, social, and moral position contained within the institution of the Christian community. Such diversity makes them appear to stand for everything, yet for nothing. Consequently, Christianity has become more and more difficult to define. The title "A VIEW FROM THE PEW" accurately sets the stage and foundation for this book. It is an expression from a person out of the church's audience who believes he has observed a skewed presentation of Christianity for many years. A one way presentation replete with contradictions, with little or no discussion or input from the audience. My conclusion is that the 'Institution of the church' and the real Church are not always the same, yet almost ir.
Authorhouse, 9781420882629, 392pp.
Publication Date: April 27, 2006