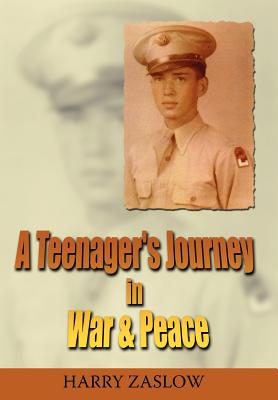 A Teenager's Journey in War & Peace
Hardcover

* Individual store prices may vary.
Other Editions of This Title:
Paperback (3/17/2006)
Description
Who I am Today - Who Was I Yesterday? As a young person, born and living in the freedom of America, I was innocent and harmless, living in a Jewish neighborhood more than 65 years ago. Although my parents escaped from Czarist Russia in 1912, they enjoyed their new country. The problem was that they were unaware of the persecution of Jews in Germany and Europe in the 30s and 40s. As a result, I was not aware of the German Nazi plan to annihilate all Jews, their tortured bodies disposed like trash. When I returned home after the war, a witness to the inhumane murder of Jews and other people, I could not broach the subject of the Holocaust. Forty years passed and I was content forgetting the ungodliness of man's treatment of man during World War II. With the memory of the past, why would I subject myself to depression by re-living that negativity through the years? But I was wrong Sweeping the dust under the carpet does not solve the problem. In 1994, I volunteered to speak about World War II and the Holocaust - the genocide of the Jews, Gypsies, Slavs, and Polish people. I was not a born speaker, rather shy and uncomfortable before huge audiences. My mission was to bring to future generations an awareness of war and genocide. At times, I quietly became emotional as I spoke of the brutality of human beings. Whether I was able to speak or not was not a choice. As of this writing, I have spent six years speaking of war and genocide in four states. Although the subject is not pleasant, I have reached more than 4,800 students and teachers. Be aware of tyrants Missing Generations - Lost Contributions to Mankind, Failure as a Result of Genocide If I would have not survived the war, my lineage - my sons, daughter, grandchildren, and great-grandchildren - would not exist today. Every human being contributes to the world. Every human being possesses talent, worth, and inventiveness, helping provide a better life for our communities and nations. Creative writers dig deep in thought. Journalists contribute in the expansion of knowledge and information. Otherwise, we would be locked in within our own secluded minds. The power of the pen creates in depth understanding and thought. Creative writers are original, imaginative, and inventive, able to visualize and better understand our existence. Life is a miracle; man's contribution to his fellow man is part of the growth of civilization. The meaning of life is how to live that life. People who lived under tyranny lost their lives to genocide, causing setbacks in the progress of the world. A despot approaches humanity as an oppressor. And within the evil thoughts of his cranium, he decides who shall live and who shall die. A crazed dictator, seeking personal power through murder, breaks the laws of nature and man.
Authorhouse, 9781420883374, 680pp.
Publication Date: March 17, 2006