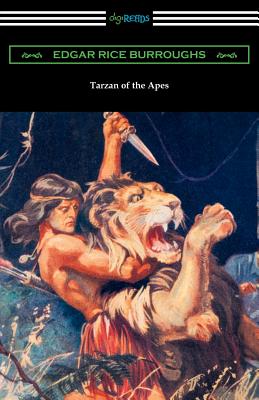 Tarzan of the Apes (Paperback)
Digireads.com, 9781420951721, 190pp.
Publication Date: November 10, 2015
Other Editions of This Title:
Paperback (7/3/2018)
Paperback (7/5/2018)
Paperback (7/20/2017)
Paperback (11/20/2016)
Paperback (12/18/2014)
Paperback (6/17/2018)
Paperback (1/25/2016)
Paperback (8/2/2016)
Paperback (8/3/2013)
Paperback (4/11/2018)
Paperback (1/18/2016)
Paperback (3/14/2016)
Paperback (11/25/2016)
Paperback (1/28/2015)
Paperback (3/17/2018)
Paperback (4/18/2017)
Paperback (10/9/2016)
Paperback (8/16/2017)
Paperback (1/28/2017)
* Individual store prices may vary.
Description
First published in the pulp magazine "All-Story Magazine" in October, 1912, "Tarzan of the Apes" is the first novel in a series of adventure novels that was so popular that it would spawn some two dozen sequels. It is the coming of age story of John Clayton, the son of an English couple, Lord and Lady Greystoke, who are marooned in the western coastal jungles of equatorial Africa. When his father is killed by the savage king ape Kerchak and his mother dies of natural causes when he is just one year old, Clayton is adopted by the she-ape Kala and renamed Tarzan, or "white skin" in the ape language. As Tarzan grows up he begins to recognize that he is different from his ape peers, a realization that stirs within him feelings of alienation and drives him to discover his true heritage. Tarzan discovers his true parents' cabin and there, in books, he learns of others like himself. Tarzan becomes a skilled hunter gaining him respect amongst the apes and drawing the ire of Kerchak, setting up a final and fatal conflict between the two. This classic tale of adventure by Edgar Rice Burroughs has captivated readers both young and old ever since its original publication in 1912. This edition is printed on premium acid-free paper.