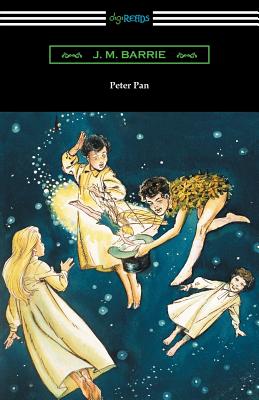 Peter Pan (Paperback)
Digireads.com, 9781420952483, 110pp.
Publication Date: February 18, 2016
Other Editions of This Title:
Digital Audiobook (10/4/2006)
Digital Audiobook (9/11/2006)
Paperback (4/25/2017)
Paperback (9/25/2019)
Paperback (1/13/2009)
Paperback (10/30/2017)
Paperback (10/7/2016)
Paperback (1/13/2017)
Paperback (9/16/2018)
Paperback (10/19/2018)
Paperback (10/7/2018)
Paperback (6/9/2015)
Paperback (10/25/2017)
Paperback (7/1/2018)
* Individual store prices may vary.
Description
First composed as a play in 1904 and subsequently as a novel in 1911, James Matthew Barrie's "Peter Pan" is one of the greatest fantasy tales ever written. Inspired by Barrie's friendship with the Llewelyn Davies family, the story concerns its titular character, Peter Pan, a boy who refuses to grow up. The book opens with Peter's nighttime visits to the house of Mrs. Mary Darling, who entertains her children with bedtime stories that Peter eavesdrops on. When he is spotted one evening Peter loses his shadow trying to escape. Later he returns to retrieve it and his identity is finally revealed to Wendy Darling. Peter invites Wendy, along with her brothers John and Michael, to return to his island home of Neverland. There Peter welcomes Wendy into his underground home where she assumes a mothering role to his gang of lost boys. A series of adventures ensue for Peter, his lost boys, and the Darling children. They travel to the Mermaids' Lagoon to rescue the princess Tiger Lily and have their first battle with the evil Captain Hook and his pirates. Later Peter must rescue John, Michael, and Wendy when they are captured by Captain Hook. A captivating tale of fantasy and adventure "Peter Pan" has delighted audiences and readers ever since its first appearance. This edition is printed on premium acid-free paper.