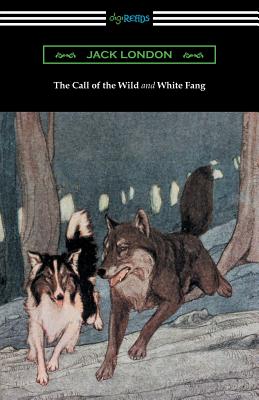 The Call of the Wild and White Fang (Illustrated by Philip R. Goodwin and Charles Livingston Bull)
Paperback

* Individual store prices may vary.
Other Editions of This Title:
Paperback (1/11/2020)
Paperback (10/20/2018)
Paperback (10/5/2018)
Paperback (1/7/2012)
Paperback (8/21/2018)
Paperback (4/15/2019)
Paperback (1/11/2020)
Description
American author, journalist, and social activist Jack London is best known for his stories set during the Klondike gold rush. Drawing upon his own personal experiences in the Klondike, London's stories are embodied with a realism indicative of that experience. This volume brings together two of his most famous novellas, "The Call of the Wild" and "White Fang". "The Call of the Wild" follows the struggle of Buck, a domesticated dog, who is snatched from a pastoral ranch in California and is sold into a brutal life as a sled dog in the Yukon. "White Fang", described as a mirror to "The Call of the Wild", conversely details a wild wolfdog's journey to domestication. By telling these stories through the viewpoint of the animals London explores the struggle of humankind between its wild nature and the demands of civilization. "The Call of the Wild" and "White Fang" are two of the finest examples of London's literary talent and exhibit why he would become one of the most popular writers of his day. This edition is printed on premium acid-free paper and is illustrated by Philip R. Goodwin and Charles Livingston Bull.
Digireads.com, 9781420952803, 238pp.
Publication Date: February 18, 2016